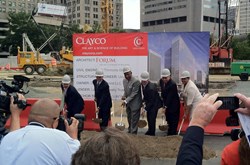 Richmond, VA (PRWEB) October 02, 2013
Mayor, Dwight C. Jones and key officials gathered together earlier this month to celebrate the beginning of construction for the latest addition to Richmond's skyline. Gateway Plaza, the 18 story building to be located on East Canal Street, is scheduled to open in the spring of 2015. Timmons Group, a leader in multi-discipline civil engineering and professional consulting services, collaborated closely with Clayco to provide planning and development services for the project.
Mayor Jones speaking at the groundbreaking ceremony about the benefits Gateway Plaza will bring to the Richmond economy: "[Gateway Plaza] will offer significant benefits to the City of Richmond. Economic studies show that this project will generate 812 construction jobs with more than $50.7 million in wages; another 1,653 jobs, including retaining more than 630 at McGuireWoods; and new cumulative tax revenues for the City are estimated to be more than $117 million over the next 30 years."
When complete, the 307,000 square foot building will be a LEED Gold Certified building. Its design and future maintenance will have a lesser impact on the environment resulting in lower energy costs and a healthier work space for tenants. The building will include first floor retail space, five levels of tenant parking and twelve floors of office space. Tenants and surrounding offices can look forward to the amenities Gateway Plaza will offer as well, such as a café/bistro, building parking, enclosed bicycle lockers, car wash services and dry cleaning.
About Timmons Group
Timmons Group is a multi-disciplined engineering and technology firm recognized for nearly twenty years as one of Engineering News Record's (ENR) Top 500 Design Firms in the country. Timmons provides civil engineering, environmental, GIS/geospatial technology, landscape architecture and surveying services to a diverse client base. The Hampton Roads office is located in Virginia Beach with regional offices throughout Virginia and North Carolina. For more information, visit http://www.timmons.com.
Media contact:
Tim Klabunde
Director of Marketing
Tim.klabunde(at)timmons(dot)com