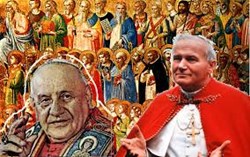 It is indelibly etched in my mind.
(PRWEB) October 01, 2013
April 27, 2014 has been announced as the date for the much anticipated canonization of John Paul II and John XXIII.
With the potential of millions attending this historic event, one might think, why would I ever want to travel halfway across the world to be in a huge mass of humanity at this particular place and time.
Richard Sontag is the Director of Tekton Ministries, a Catholic pilgrimage company whose ministry is to send priests to holy places. He recalls as a youth while visiting relatives in Chicago, he and his family went out on the streets to watch Pope John Paul II drive by. He says, "We were actually able to be really close, I could see his face and he looked really kind."
He shared, "My family was Catholic but I wasn't particularly interested in the Pope." He recounts, "But I still, to this day, remember him driving by; I remember that face; I remember attending the outdoor Mass in a park nearby, I remember all the people." He adds, "It is indelibly etched in my mind and I was only 15 years old."
Seeing an important person in the flesh does affect us and come next April 27th, those present in Vatican City will not only be able to see the current Holy Father, but they will be a part of history in the making.
The canonization of both Blessed John Paul II and John XXIII is unprecedented in "modern history" in numerous ways.
The last Pope to be canonized was Pope Pius X in 1954. However, this will be the first time that two popes have been canonized on the same day.
In the case of John Paul II, the normal five year waiting period before starting the cause for canonization was waived as it was begun in the very year of his death. Actually, at his funeral many were already chanting "Santo Subito" – "Immediate Sainthood." He was beatified only six years after the process began.
His canonization on April of 2014 will be just nine short years after his death. Currently, the "modern record" for the shortest time from death to sainthood is 27 years, that being Josemaria Escriva, the founder of Opus Dei.
In addition, Pope Francis has approved Blessed John XXIII's canonization without a second miracle.
The scheduled date of April 27, 2014 is also significant because it will be on Divine Mercy Sunday, a celebration instituted by then Pope John Paul II on April 30, 2000 when St. Faustina of Poland was canonized.
Just as Sontag can tell his kids, "I saw the Pope back when I was your age," those who attend this unique canonization will be able to pass on, "I was there when history was made."
Don't miss this once in a lifetime opportunity. Tekton Ministries is offering a variety of options to pilgrimage to Rome for this historic event. Please call us at 1-866-905-3787 or email us at pilgrimage(at)tektonministries(dot)org.