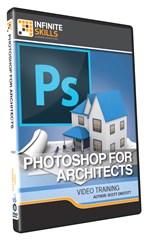 Learn Photoshop for Architects training course at your own pace.
(PRWEB) October 02, 2013
Software training firm Infinite Skills this week released its "Photoshop for Architects Tutorial," a targeted course teaching Photoshop tools and techniques useful in project visualization and an AutoCAD workflow.
Photoshop is the world's most popular digital image editor, with a vast amount of tools and features for image manipulation including basic editing tools, restoration, and 3D graphics creation.
Infinite Skills' "Photoshop for Architects Tutorial" teaches a selection of Photoshop features that will help architects, engineers, and builders use Photoshop to creatively express their ideas and visualize possibilities with building projects.
Photoshop for Architects Tutorial - DVD
Course author Scott Onstott holds a bachelor's degree in architecture from the University of California at Berkeley and has spent more than a decade creating tutorials and writing books for architects and engineers. He has written a popular book entitled "Enhancing Architectural Models and Drawings in Photoshop" along with a book on Photoshop CS6 fundamentals. Olstott also writes a column for Photoshop User Magazine.
Olstott begins with a look at some fundamentals Photoshop tools helpful with project visualization. He explains some of the technical concepts underlying Photoshop such as bits, bit maps, channels, bit depth, and color modes, that make many of its advanced editing capabilities possible. The chapter also covers some basic tools useful in creating perspective, like cropping, scaling, and trimming.
Olstott then takes an in-depth look at photo development, beginning with using keywords organize image files, and moving on to explore the development tools in Photoshop's Camera Raw digital darkroom module.
As the course continues, he explores areas like non-destructive editing tools and techniques, merging multiple exposures and toning, which can help add realism and detail to images, before moving on to explain how to use Photoshop to produce digital illustrations that can be used in creating 3D models.
Additional chapters cover extracting objects from photos, enhancing 2D drawings, performing edits like retouching, masking, and replacement, which actually alter the image content, and finally a chapter on working with Photoshop images for creating camera angles and 3D cross-sections.
"This course will help you master Photoshop and learn techniques that can be applied to architectural and engineering and construction projects," Olstott says.
"You will learn how to harness Photoshop to present your projects in the best light."
Free demo videos and a full list of course contents can be found on the Photoshop for Architects training page of the InfiniteSkills website:
http://www.infiniteskills.com/training/photoshop-for-architects.html
Infinite Skills offers its Photoshop for Architects Video Tutorial either as a DVD or a direct download from the company website at a retail price of $49.95. Though the compatibility of programs varies, all InfiniteSkills titles and formats are compatible with both Mac and Windows operating systems, and shipping is available around the globe. Additionally, InfiniteSkills tutorials are supported by project files which correspond to examples in the videos.
About Infinite Skills Inc.
A leader in the field of software training, Infinite Skills designs its courses on a task-oriented model, teaching complex skills by providing hands-on examples and guiding users as they carry out essential functions. Infinite Skills offers a wide range of software titles available as DVDs, digital downloads, and in iPad editions. Infinite Skills now offers a subscription service, providing access to all its training content for a monthly fee, keeping with company's aim of delivering professional training to customers anywhere they want to learn.