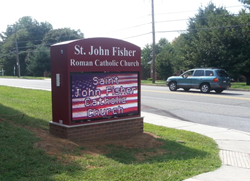 The decision to purchase a new LED sign to reach out to all the traffic was an easy one.
Boothwyn, PA (PRWEB) October 01, 2013
The staff at the Saint John Fisher Catholic Church love to seize any opportunities to help spread the Good News of Jesus, and they discovered they had a very lucrative one in their front yard. Thousands of cars pass their church every day, and the members of Saint John Fisher decided it was time to reach out to every one of them; and what better way than with a message sign. With the help of KC Sign and Awnings, the church installed a new identification sign with a full color LED message display.
"We always strive to spread the Good News of Jesus, and we welcome everyone to join us on Sunday, as well as on the website and our many parish missions," stated John Leahy, Coordinator of Projects for Saint John Fisher, "so, the decision to purchase a new LED sign to reach out to all the traffic was an easy one."
Along with spreading the Word, the church has many activities they communicate with the community, too, like liturgy for children, education programs, food bank, Knights of Columbus, and fundraising events. They find the LED message sign gives them an easy way to reach out effectively to the community about anything.
"It's truly an effective tool when it's used correctly. Not only did we guide the church on the design and size of the entire sign, but we trained the staff on the software; and we're always available to help them in the future with any support," stated Bill Clark, Jr of KC Sign and Awnings.
Along with a routed and backed with acrylic aluminum ID cabinet, KC Sign and Awnings installed a Phoenix™ Full Color Series LED sign manufactured by Vantage LED in Corona, CA. It features the powerful Darwin™ Industrial Control Unit that can handle the most demanding high resolution video and graphics. The church controls the sign using the simple, yet powerful, LightSpeed™ LED sign software. The software is user friendly for the simple user, yet still packed with advanced features for the most tech savvy user.
Saint John Fisher Catholic Church may have stepped into the future with the addition of their new full color LED message sign, but they look forward to using it to spread the Word that has been around for centuries.
KC Sign & Awnings services all types of customers from local companies to national and regional chains. Their commitment to providing high quality signage has enabled them to become one of the largest providers of all types of signage in the region. This dynamic new sign at their corporate manufacturing facility advertises the quality and breadth of services this company provides.