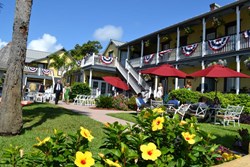 House concerts are a great way to enjoy a musician's talent in a small venue.
St. Augustine, FL (PRWEB) October 28, 2013
The Bayfront Marin House, a waterfront bed and breakfast in St. Augustine, FL, will host an intimate house concert with singer/songwriter Jill Sobule on Saturday, December 7, at 7pm.
"I've been a fan of Jill Sobule for years," says owner Mike Wieber, who says he first saw the performer in a small venue in Philadelphia. "We're very excited to showcase her talents in our third house concert."
The bed and breakfast features talented singer/songwriters throughout the year, selling only a limited number of tickets for a very personal experience. "We like to highlight songwriters who have great musical skills, amazing voices, and a fun stage presence. Jill Sobule certainly fit that bill."
Sobule has worked with musician Todd Rundgren, and has toured with Neil Young, Billy Bragg, and Warren Zevon. Her hits include "I Kissed a Girl" (original version) and "Supermodel", used in the film Clueless.
For more information, or to order tickets, please contact the Bayfront Marin House at 904.824.4301 or info(at)bayfrontmarinhouse(dot)com. Tickets are $40 for the general public, and $30 for bed and breakfast guests. Only 50 tickets will be sold to the event.
About the Bayfront Marin House
The Bayfront Marin House is a 15-room bed and breakfast located on the water in St. Augustine, FL. They were recently awarded a TripAdvisor Certificate of Excellence. To reserve a room, call 904.824.4301 or visit http://www.bayfrontmarinhouse.com.