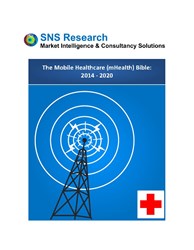 Rockville, MD (PRWEB) October 01, 2013
The Mobile Healthcare (mHealth) Bible: 2014 - 2020 Q3'2013
With more than 7 Billion mobile network subscriptions worldwide, the mobile communications sector is rapidly gaining traction from a diverse range of vertical sectors. Healthcare is no exception to this trend.
As healthcare providers seek to maximize their patient outreach while minimizing costs, many view mobile healthcare (or mHealth) as the solution to improve healthcare cost-efficiency. mHealth refers to the usage of mobile communications technology & devices to enhance access to healthcare information, improve distribution of routine and emergency health services and provide diagnostic services.
Mobile network operators also view mHealth as a lucrative opportunity for the monetization of their mobile connectivity services. Given that most operators have established themselves as reputable consumer brands, they are also eyeing on opportunities to offer services beyond simple connectivity. Many operators already offer branded or co-branded end-to-end mHealth solutions to their customer bases.
In addition, mHealth offers a multitude to opportunities to the pharmaceutical industry ranging from R&D activities to securing the supply chain and, in the battle against counterfeit drugs.
Driven by the thriving ecosystem, SNS Research estimates that the mHealth market will account for nearly $9 Billion in 2014 alone. Despite barriers relating to regulation, patient acceptance and privacy concerns, SNS Research estimates further growth at a CAGR of nearly 40% over the next 6 years.
This report presents an in-depth assessment of the global mHealth market. In addition to covering key market drivers, challenges, future roadmap, value chain analysis, deployment case studies, service/product strategies and strategic recommendations, the report also presents comprehensive forecasts for the mHealth market from 2013 till 2020.
To order this report:
The Mobile Healthcare (mHealth) Bible: 2014 - 2020 Q3'2013
Contact: Shauna
800.298.5699
Customerservice(at)marketresearch(dot)com
About Signals and Systems Telecom
Signals and Systems Telecom provides market intelligence and turnkey outsourcing services covering the telecommunications industry sector. Developed by leading industry analysts our market forecast reports provide unique insights to the global telecommunication industry with information ranging from niche details of handset models to tracking of large network infrastructure contracts and cellular network operator metrics. Whether your focus is strategic planning, development, or marketing our reports allow you to make better decisions with self-assurance.
About MarketResearch.com
MarketResearch.com is the leading provider of global market intelligence products and services. With research reports from more than 720 top consulting and advisory firms, MarketResearch.com offers instant online access to the world's most extensive database of expert insights on global industries, companies, products, and trends. Moreover, MarketResearch.com's Research Specialists have in-depth knowledge of the publishers and the various types of reports in their respective industries and are ready to provide research assistance. For more information, call Cindy Frei at 240.747.3014 or visit http://www.marketresearch.com
Follow us on Facebook http://www.facebook.com/marketresearchdotcom
Follow us on Twitter http://www.twitter.com/marketresearch_
The Mobile Healthcare (mHealth) Bible: 2014 - 2020 Q3'2013 – Table of Contents:
1 Chapter 1: Introduction
2 Chapter 2: An Overview of mHealth
3 Chapter 3: mHealth Value Chain and Industry Roadmap
4 Chapter 4: mHealth Use Cases
4.1 Pharmaceutical Applications
4.1.1 Safety Data Collection
4.1.2 Consumer Education
4.1.3 Medical Education
4.1.4 Post-Market Monitoring
4.1.5 Drug Authentication
4.1.6 Social Media
4.1.7 Patient Compliance & Retention: Clinical Trials
4.2 Medical Information & Healthcare Management
4.2.1 Electronic Health/Medical Records & Tracking Tools
4.2.2 Diagnostic Tools & Medical Reference
4.2.3 Continuing Medical Education
4.2.4 Awareness through Alerts
4.2.5 Logistical & Payment Support
4.3 Healthcare & Fitness
4.3.1 Medical Compliance
4.3.2 Fitness & Nutrition Apps
4.3.3 Clinical Decision Support Systems
4.3.4 Prescribable Mobile Apps
4.4 Remote Consultation/Diagnostics Services
4.4.1 Mobile Video Consultations, Collaboration & Surgery
4.4.2 Non-Video Consultations & Collaboration
4.4.3 Remote Collaboration in Emergency Situations
4.5 M2M, Sensor & Monitoring Applications
4.5.1 Health & Wellness Monitoring
4.5.2 Disease Surveillance/Remote Monitoring
4.5.3 Diagnostic Tools
4.5.4 Technical Logistics
5 Chapter 5: mHealth Deployment Case Studies
6 Chapter 6: mHealth Solution Provider Profiles
7 Chapter 7: Standardization, Regulation & Development Initiatives
8 Chapter 8: Market Analysis & Forecasts
9 Chapter 9: Conclusion & Strategic Recommendations