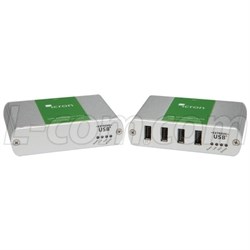 "The new Ranger 2304 series offer customers more options for USB 2.0 extension with greater feature support, compared to the first generation extenders," said Manuel Martinez III, Product Manager
North Andover, MA (PRWEB) October 03, 2013
L-com, Inc., a designer and manufacturer of wired and wireless connectivity products, announced today that it will be offering two new Icron Technologies Ranger® 2304 USB extenders to its customers.
The Ranger® 2304 is a four port USB 2.0 high speed extension solution, enabling USB 2.0 connections at up to 480Mbps over 100m/330ft of Cat5e (or better) network cabling. The new Ranger® 2304 offers the same reliable USB 2.0 extension benefits as the Ranger® 2204, but with faster throughputs when using read/write devices such as external hard drives. Additionally, the Ranger® 2304 supports a greater number of connections (up to 31 devices and hubs).
The Ranger® 2304-LAN builds upon the 2304 by adding the ability to connect USB 2.0 devices to hosts across an Ethernet Local Area Network (LAN) using existing cabling. The Ranger® 2304-LAN is compatible with both 100Mbps and 1000Mpbs networks and can be used with Cat5e or better cabling up to 100 meters/330 feet.
Both models feature the ExtremeUSB® suite of features such as plug and play functionality (no software drivers) and compatibility with all major operating systems, including Windows 8 and Mac.
"The new Ranger 2304 series offer customers more options for USB 2.0 extension with greater feature support, compared to the first generation extenders," said Manuel Martinez III, Product Manager at L-com. "Icron delivers the most robust USB extension products offered in the market today."
"L-com continues to provide their customers with a full range of product options," stated Glenn Antonelli, Icron's VP of Marketing. "Adding our new USB 2.0 Ranger 2304 and 2304-LAN extender models to their line-up not only provides additional choices for existing customers but will open up opportunities for new markets and applications."
The new Icron Ranger® 2304 series USB extenders can be order directly from L-com either from the http://www.l-com.com e-commerce site by contacting L-com sales at 1-800-341-5266.
To download a high-res version of the image suitable for print publication, follow this link, right click on the image, and select Save As:
http://www.l-com.com/lcom_emails/2013/100313/icron-Ranger-2304.jpg.
For more information about this release, please contact:
Peter McNeil, Product Marketing Manager
978-682-6936 x1450, mailto:pmcneil(at)l-com(dot)com
L-com, a global designer and manufacturer of wired and wireless connectivity products, offers a wide range of solutions and unmatched customer service for the audio/video, OEM, military/aerospace, IT, and wireless RF industries. The company's product portfolio includes cable assemblies, connectors, adapters, computer networking components, and custom products, as well as the HyperLink® line of wireless antennas, amplifiers, filters/splitters, lightning protectors, weatherproof enclosures, and much more. Trusted for more than 30 years, L-com, Inc. is headquartered in North Andover, Massachusetts, USA, and is ISO 9001: 2008-certified. For more information, please visit: http://www.L-com.com/.