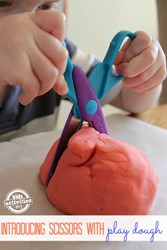 Let the kids learn and have fun by cutting play dough.
Dallas, Texas (PRWEB) October 04, 2013
Getting ready to use scissors? A fun way learning to use scissors and 10 ways to make play dough have been released on Kids Activities Blog. Learning to cut by using play dough is the latest buzz on Kids Activities Blog.
Use play dough to introduce scissors to the little ones. There are so many things to remember when learning how to hold the scissor correctly, not mentioning the need for a lot of muscle strength to use them.
Instead of paper, let the kids experiment by cutting play dough. By using play dough, kids can learn to control the scissor without the added challenge of trying to hold the paper.
For the simple activity, offer the little ones a child safe scissor and a ball of play dough. Let them experiment with opening and closing the scissors and eventually cutting into the ball. When the child has become more confident, roll out stripes of play dough and let him or her have fun cutting it into pieces.
Making play dough in the kitchen is easy. It also allows for lots of creativity, color, and smells. The kids will have a blast making it and playing with it afterwards. They can even make great last minute birthday presents, too.
The play dough ideas include a yummy apple cinnamon play dough recipe perfect for the fall. Chocolate pudding play dough and a rosewater play dough recipe top the list.
Other fun play dough recipes include using corn starch, pudding powder, and glue to mix up the batch. Fun ingredients to make the dough special include glitter and all sorts of aromas like cinnamon and nutmeg.
Make even a fizzy play dough or a paper play dough for the extra special texture and wow effect.
For detailed instructions and to get additional simple and easy tips for the fall, check out Kids Activities Blog this week. Come get inspired to let the kids have a blast this fall while learning at the same time.
About Kids Activities Blog
Kids Activities Blog is a website created by two moms (who collectively have 9 children), Rachel Miller and Holly Homer from June Cleaver Nirvana. It is their daily goal to inspire parents and teachers to play with kids. This interactive website publishes simple things to do with kids twice a day. Kids Activities Blog is a great tool for moms and teachers to find kid-friendly activities that create memories and sneak learning into the fun.