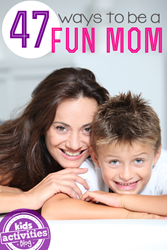 Being a fun police will allow the kids to enjoy a bit of freedom.
Dallas, Texas (PRWEB) October 06, 2013
Having fun is not always the top priority for a parent. There are structures, rules, and reason to follow. Moms are sharing their ways to be a fun Mom and a laundry list of easy Halloween crafts on Kids Activities Blog.
Sometimes there is room for some fun and sometimes it is nice to loosen the reigns a bit and go off.
The fun ideas include giving kids a big canvas to paint on. Kids love big and kids love art. Try giving them the old fence as a canvas or hand over a basement or garage wall to the artist in residence. He or she will be able to paint and modify his or her mural for years to come.
Other tips include fun science experiments at home. Teach kids about pollination, condensation, or migration by using some props at home and having a good time out in the yard.
Being a fun police will allow the kids to enjoy a bit of freedom. One does not always realize how much parents hover over their kids. Trust them and take a step back with these great tips.
The easy Halloween crafts include making a family of pumpkin mummies, building an origami bat mobile, creating a flower pot witch, and making some cute cotton ball ghosts. A set of Halloween themed printables, a spider paper craft, and wax crayon pumpkins make cute activities for any Halloween themed party.
For detailed instructions and to get additional fun ideas, check out Kids Activities Blog this week. Come get inspired to let the kids have a blast this holiday season.
About Kids Activities Blog
Kids Activities Blog is a website created by two moms (who collectively have 9 children), Rachel Miller and Holly Homer from June Cleaver Nirvana. It is their daily goal to inspire parents and teachers to play with kids. This interactive website publishes simple things to do with kids twice a day. Kids Activities Blog is a great tool for moms and teachers to find kid-friendly activities that create memories and sneak learning into the fun.