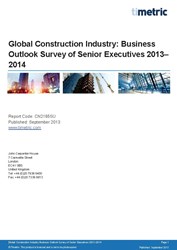 Rockville, MD (PRWEB) October 02, 2013
Global Construction Industry: Business Outlook Survey of Senior Executives 2013–2014
"Global Construction Industry: Business Outlook Survey of Senior Executives 2013–2014" analyzes how company procurement expenditures, business strategies, media spend, marketing and sales strategies, and business planning are set to change in 2013–2014.
This report provides data and analysis on category-level spending outlooks, budgets, supplier selection criteria, business challenges and investment opportunities as seen by senior level executives. Furthermore, it provides data on the current size of the marketing and advertising budgets and details on how spending will change, providing insight into global marketing behavior; it also identifies future growth, key consumer trends, M&A, and e-procurement across various industries.
This report not only grants access to the opinions and strategies of business decision makers and competitors in the global construction industry, but also examines their actions surrounding business priorities and provides access to information categorized by region and size.
Key Highlights:
-China, India and Brazil are the important emerging markets for growth in 2013
-'Market uncertainty', 'cost containments' and 'retention and recruitment of skilled staff' are the leading business concerns for 2013
-Overall, for 2013, the average size of the annual procurement budget identified by senior level executives across industries is projected at US$41 million, while the annual marketing budget is identified at US$6 million
-'Quality', 'level of service', and 'price' are considered the most important factors for supplier selection by senior level respondents in 2013
-'Market intelligence research', 'CRM systems' and 'ERP solutions' were identified as the marketing and sales solutions most expected to be invested in during 2013
To order this report:
Global Construction Industry: Business Outlook Survey of Senior Executives 2013–2014
Contact: Shauna
800.298.5699
Customerservice(at)marketresearch(dot)com
About Timetric
Timetric is an independent economic and business research firm providing critical intelligence on emerging economies and key global industries. We provide detailed economic and sector intelligence, business insights and authoritative, independent commentary.
Timetric's flagship products are economic and industry intelligence centers, which are premium decision tools that provide access to comprehensive research and expert analysis. They provide invaluable decision support presented in easily digestible formats and grounded in deep research.
About MarketResearch.com
MarketResearch.com is the leading provider of global market intelligence products and services. With research reports from more than 720 top consulting and advisory firms, MarketResearch.com offers instant online access to the world's most extensive database of expert insights on global industries, companies, products, and trends. Moreover, MarketResearch.com's Research Specialists have in-depth knowledge of the publishers and the various types of reports in their respective industries and are ready to provide research assistance. For more information, call Cindy Frei at 240.747.3014 or visit http://www.marketresearch.com.
Follow us on Facebook http://www.facebook.com/marketresearchdotcom
Follow us on Twitter http://www.twitter.com/marketresearch_
Global Construction Industry: Business Outlook Survey of Senior Executives 2013–2014 – Table of Contents:
1 Executive Summary
2 Global Construction Industry Dynamics – Senior-Level Respondents
3 Global Construction Industry Market Growth Outlook – Senior-Level Respondents
4 Threats and Opportunities – Global Construction Industry Senior-Level Respondents
5 Global Construction Industry Buyer Expenditure Activity – Senior-Level Respondents
6 Global Construction Industry Procurement Behaviors and Strategies – Senior-Level Respondents
7 Global Construction Industry – Suppliers' Marketing Expenditure Activity by Senior-Level Respondents
8 Global Construction Industry Senior Level-Respondents – Marketing and Sales Behaviors and Strategies
9 Appendix
List of Tables