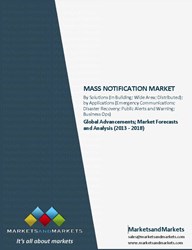 Rockville, MD (PRWEB) October 03, 2013
Mass Notification Market - Global Advancements Market Forecasts and Analysis (2013 - 2018)
Mass notification is considered as a necessity these days as it helps to promote public safety and avoid panic during natural calamities, terrorist attacks, crimes and other similar incidents. The technologies which are used in mass notification include communication systems such as Wi-Fi, IP Ethernet, satellite, radio frequency; Geographical Positioning Systems (GPS), Geographical Information Systems (GIS), and mobile applications. The vendors for MNS include companies such as IBM, United Technologies, Mircom Group of Companies, Tyco, Athoc and Cooper Industries.
The mass notification market research report analyzes global adoption trends, future growth potential, key drivers, restraints, opportunities, and best practices in this market. The report also analyzes market sizes and revenue forecasts across different regions as well as industry verticals.
North America is expected to have the largest market share in the year 2013 which is succeeded by Europe .In 2013, the highest market share is accounted by hardware products, such as digital signage, speakers, in-building visual notification appliances, fire life safety solutions and paging systems. Furthermore, in 2018, it is expected that the market share of software and services will have comparatively higher market share.
The market share of cloud-based MNS is growing and it has widespread applications across various verticals. Hybrid deployment of MNS is mainly seen in Europe and is expected to increase in other regions. One of the major concerns of the mass notification market is the availability of substandard and non-tested solutions for public safety. Many vendors sell such solutions at much cheaper rates and hence competition in the market has increased.
To order this report:
Mass Notification Market by Solutions (In Building, Wide Area, Distributed), by Applications (Emergency Communications, Disaster Recovery, Public Alerts and Warning, Business Ops) - Global Advancements Market Forecasts and Analysis (2013 - 2018)
Contact: Shauna
800.298.5699
Customerservice(at)marketresearch(dot)com
About MarketsandMarkets
The MarketsandMarkets edge: Worldwide, market research reports are primarily sold for numbers, market segmentation and competitive landscape, within the business leaders.
The analyst working with MarketsandMarkets come from the renowned publishing houses and market research firms globally adding their expertise and domain understanding. We get the facts from over 22,000 news and information sources, a database of hundred thousands of key industry participants and draw on our relationship with more than 900 market research companies globally.
In course of our ongoing relationship with research partners for over a period of three years, our clients have discovered that we can not only head-start any given research project immediately but also execute it in a stipulated time frame. We always prioritize our commitments of confidentiality. The fact that a high percentage of our business comes from client referrals bears ample testimony to the quality of our market research reports.
About MarketResearch.com
MarketResearch.com is the leading provider of global market intelligence products and services. With research reports from more than 720 top consulting and advisory firms, MarketResearch.com offers instant online access to the world's most extensive database of expert insights on global industries, companies, products, and trends. Moreover, MarketResearch.com's Research Specialists have in-depth knowledge of the publishers and the various types of reports in their respective industries and are ready to provide research assistance. For more information, call Cindy Frei at 240.747.3014 or visit http://www.marketresearch.com.
Follow us on Facebook http://www.facebook.com/marketresearchdotcom
Follow us on Twitter http://www.twitter.com/marketresearch_
Mass Notification Market by Solutions (In Building, Wide Area, Distributed), by Applications (Emergency Communications, Disaster Recovery, Public Alerts and Warning, Business Ops) - Global Advancements Market Forecasts and Analysis (2013 - 2018) – Table of Contents:
1 Introduction
2 Executive Summary
3 Market Overview
4 Mass Notification: Market Size And Forecast By Product
5 Mass Notification: Market Size And Forecast By Deployment
6 Mass Notification: Market Size And Forecast By Solutions
7 Mass Notification: Market Size And Forecast By Applications
8 Mass Notification: Market Size And Forecast By Verticals
9 Mass Notification: Market Size And Forecast By Regions
10 Mass Notification: Market Landscape
11 Company Profiles (Mnm View, Overview, Products & Services, Financials, Swot Analysis And Strategy & Analyst Insights)*
List Of Tables
List Of Figures
Figure 1 Data Triangulation
Figure 2 Mass Notification Market: By Region, 2013 – 2018 ($million, Y-o-y %)
Figure 3 Mass Notification Market: Evolution
Figure 4 Mass Notification: Market Segmentation
Figure 5 Mass Notification Market: Time Impact Analysis
Figure 6 Mass Notification: Value Chain
Figure 7 Global Mass Notification Market, By Product, 2014 – 2018, Y-o-y (%)
Figure 8 Hardware Mass Notification Market, By Regions, 2014 – 2018, Y-o-y (%)
Figure 9 Software And Services Mass Notification Market, By Regions, 2014 – 2018, Y-o-y (%)
Figure 10 Global Mass Notification Market, By Deployment Types, 2014 – 2018, Y-o-y (%)
Figure 11 On-premises Mass Notification Market, By Regions, 2014 – 2018, Y-o-y (%)
Figure 12 On-demand Mass Notification Market, By Regions, 2014 – 2018, Y-o-y (%)
Figure 13 Global Mass Notification Market, By Solutions, 2014 – 2018, Y-o-y (%)
Figure 14 Global In-building Solutions Mass Notification Market, By Regions, 2014 – 2018, Y-o-y (%)
Figure 15 Wide Area Solutions Mass Notification Market, By Regions, 2014 – 2018, Y-o-y (%)
Figure 16 Distributed Recipient Solutions Mass Notification Market, By Regions, 2014 – 2018, Y-o-y (%)
Figure 17 Global Mass Notification Market, By Applications, 2014 – 2018, Y-o-y (%)
Figure 18 Global Interoperable Emergency Communication Mass Notification Market, 2014 – 2018, Y-o-y (%)
Figure 19 Global Business Continuity And Disaster Recovery Mass Notification Market, 2014 – 2018, Y-o-y (%)
Figure 20 Global Integrated Public Alert And Warningmass Notification Market, 2014 – 2018, Y-o-y (%)
Figure 21 Global Business Operations Mass Notification Market, 2014 – 2018, Y-o-y (%)
Figure 22 Globalmass Notification Market, By Verticals, 2014 – 2018, Y-o-y (%)
Figure 23 Commercialmass Notification Market, By Regions, 2014 – 2018, Y-o-y (%)
Figure 24 Education Mass Notification Market, By Regions, 2014 – 2018, Y-o-y (%)
Figure 25 Energy And Powermass Notification Market, By Regions, 2014 – 2018, Y-o-y (%)
Figure 26 Healthcare Mass Notification Market, By Regions, 2014 – 2018, Y-o-y (%)
Figure 27 Defense Mass Notification Market, By Regions, 2014 – 2018, Y-o-y (%)
Figure 28 Global Automotive, Transportation And Logisticsmass Notification Market, By Regions, 2014 – 2018, Y-o-y (%)
Figure 29 Government Mass Notification Market, By Regions, 2014 – 2018, Y-o-y (%)
Figure 30 Other Verticals Mass Notification Market, By Regions, 2014 – 2018, Y-o-y (%)
Figure 31 Mass Notification Market, By Regions, Parfait Chart, 2013 – 2018 ($million)
Figure 32 Regional Market Lifecycle
Figure 33 Portfolio Comparison
Figure 34 Market Opportunity Plot
Figure 35 Athoc: Swot Analysis
Figure 36 Ati Systems: Swot Analysis
Figure 37 Blackboard Connect: Swot Analysis
Figure 38 Cassidian Communications: Swot Analysis
Figure 39 Cisco: Swot Analysis
Figure 40 Cooper Industries: Swot Analysis
Figure 41 Everbridge: Swot Analysis
Figure 42 Guardly: Swot Analysis
Figure 43 Honeywell: Swot Analysis
Figure 44 Ibm: Swot Analysis
Figure 45 Iml Corp: Swot Analysis
Figure 46 Mir3: Swot Analysis
Figure 47 Mircom Group Of Companies: Swot Analysis
Figure 48 Omnilert: Swot Analysis
Figure 49 Send Word Now: Swot Analysis
Figure 50 Siemens: Swot Analysis
Figure 51 Singlewire Software: Swot Analysis
Figure 52 Tyco: Swot Analysis
Figure 53 United Technologies: Swot Analysis
Figure 54 Xmatters: Swot Analysis