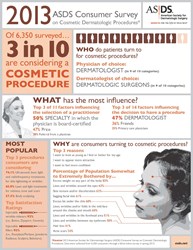 It's no surprise that the treatments performed most by dermatologic surgeons have some of the highest satisfaction ratings.
Rolling Meadows, IL (PRWEB) October 01, 2013
Consumers prefer dermatologists over other physicians when seeking a cosmetic procedure and specifically choose dermatologic surgeons in nine of 10 treatment categories, according to survey data from the American Society for Dermatologic Surgery.
The first-ever ASDS Consumer Survey on Cosmetic Dermatologic Procedures asked more than 6,300 consumers in a blind online survey for their opinions on cosmetic treatments in general and ratings for 10 specific procedures – from wrinkle-relaxing injections and body sculpting to laser hair removal.
Consumers say they prefer dermatologists over other physicians for wrinkle-relaxing injections; injectable fillers; chemical peels; microdermabrasion; varicose and spider veins; laser hair and tattoo removal; and various ultrasound, laser, light and radiofrequency treatments.
Only in body sculpting procedures did consumers list a preference for another medical specialty – in this case, plastic and cosmetic surgeons – over dermatologists. ASDS members, however, have pioneered and/or specialize in several minimally invasive body sculpting procedures such as tumescent liposuction, cryolipolysis and laserlipoysis.
Consumers also say they prefer dermatologic surgeons to dermatologists in nine of the 10 procedure categories. Laser hair removal – the only treatment category dermatologic surgeons were not the top choice – was performed more often by spa personnel, office staff and other physicians and also had the lowest satisfaction rate of all 10 procedures.
"Consumers know what we've been saying all along – ASDS members are the skin experts," said ASDS President Timothy C. Flynn, M.D. "A non-invasive procedure is still a procedure and should only be performed by a properly qualified and trained dermatologic surgeon. It's no surprise that the treatments performed most by dermatologic surgeons have some of the highest satisfaction ratings."
The ASDS Consumer Survey's findings echo those of a study published in the September issue of Dermatologic Surgery that examined 16 years of cosmetic procedure data. The study determined that not only are minimally invasive cosmetic procedures in greater demand than ever, but also that dermatologists are performing an increasing share of them.
Researchers found that from 1995 to 2010, consumers underwent an estimated 35.5 million cosmetic procedures (an average of 2.2 million per year), running the gamut of available treatments – from wrinkle-relaxing injections to major plastic surgery procedures to chemical peels. Dermatologists performed 12 million cosmetic treatments in that timeframe, with another significant portion of the total identified as plastic surgery procedures.
The type of cosmetic procedures being performed also has changed. Wrinkle-relaxing injections have experienced the most growth, increasing from 2 percent early in the study period to nearly half (49 percent) of all treatments in 2007, researchers reported in "Cosmetic Procedures Performed in the United States: A 16-Year Analysis."
Increasing consumer demand for cosmetic procedures and the wider spectrum of physician and non-physician personnel performing them, however, raise important training and safety implications, the researchers suggested. While patients typically consider "minimally invasive" cosmetic procedures as having less discomfort, adverse side effects and down time, this is only true when the procedure is performed or supervised by an experienced physician, the researchers said.
The ASDS Consumer Survey found its own evidence of increasing consumer demand, reporting that three in 10 respondents are considering undergoing a cosmetic treatment.
"Today's patients are very consumer savvy," Dr. Flynn said. "Not only are they increasingly seeking cosmetic treatments to reverse the aging process, but they are choosing the training and experience of ASDS members to perform those procedures."
About the ASDS
The American Society for Dermatologic Surgery (ASDS) is the largest specialty organization exclusively representing dermatologic surgeons who have unique training and experience to treat the health, function and beauty of the skin. ASDS members are pioneers in the field. Many are involved in the clinical studies that bring popular treatments to revitalize skin and fill and diminish wrinkles to the forefront. Their work has helped create and enhance many of the devices that remove blemishes, hair and fat, and tighten skin. ASDS members also are experts in skin cancer prevention, detection and treatment. As the incidence of skin cancer rises, ASDS members are committed to taking steps to minimize the life-threatening effects of this disease. For more information, visit asds.net.