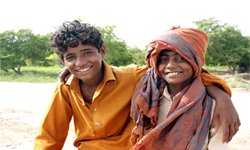 We will strive to raise awareness of this critical issue and encourage people to join in this free-to-attend anti-trafficking event.
London, United Kingdom (PRWEB) October 01, 2013
The first ever Global Online Counter Child Trafficking Conference has selected Socialable as its social media partner. Founded by Forbes Social Media Power Influencer and visionary entrepreneur, Lilach Bullock, Socialable will raise much-needed awareness of the global exploitation and trafficking of children, and boost collaborative knowledge-sharing for the exclusively online conference.
Organised by child protection consultancy, touchpoint, and the Counter Human Trafficking Bureau, the three-day event, on 16th-18th October 2013, consists of over 40 webinars delivered by speakers from across the world. To ensure accessibility to those who are often not able to travel and afford training, it is free to register and participate. It will be the largest gathering of private sector, third sector and public sector professionals and practitioners from across the world, and will showcase some of the world's most effective and innovative counter-trafficking practices from across Africa, America, Asia and Europe.
"To be involved in such an inspirational and innovative event is an honour – child trafficking is a modern day curse that is both shocking in its prevalence, and saddening in the impact it has on so many children's lives," said Lilach Bullock, founder of Socialable. "This digital age that we live in has huge opportunities for collaboration, and the building of meaningful online communities. Unfortunately, there is a darker side of society that sees it as an opportunity to exploit children through social media and other online tools. We will strive to raise awareness of this critical issue, and encourage people to join in with this free-to-attend anti-trafficking event."
"Our Counter Child Trafficking Conference aims to connect the global counter-trafficking community to share and learn. We want to encourage further collaboration and partnering opportunities as we strive to strengthen the global response to child trafficking and exploitation. By doing this exclusively online, we can work across borders and bring together knowledge and experience in a truly collaborative online community in an accessible way," said Ané Auret, co-founder of the event. "We're delighted that Socialable will be partnering with us to drive awareness and expand digital engagement. Their best-in-class social media strategy and execution will help ensure the conference brings together the global community to share ideas and work together to help eradicate child trafficking and exploitation."
This latest project marks yet another major milestone for Socialable as it seeks to continue expanding its client portfolio. The social media consultancy, a one-stop-shop for all social media needs – from bespoke social media strategies to tactical execution, or from training to digital marketing programmes – currently has customers from all corners of the globe, including such industries as charity and not-for-profit (NFP), property, healthcare and beauty, and technology.
Contacts:
Lilach Bullock
Socialable
+44 (0)7590 554 292
Peter Dolby
Counter Child Trafficking
Global Online Counter Child Trafficking Conference
+44 (0) 7967 532 033
About Socialable
Be heard above the noise.
Socialable was founded by visionary entrepreneur Lilach Bullock, who is listed in Forbes as one of the top 20 women social media power influencers and also as one of their overall top 50 social media influencers.
Socialable is a forward-thinking social media consultancy that has been around since the social media revolution began. A one-stop-shop, Socialable's suite of services includes Social Media Marketing, Social Media Training, and Keynote Speaking Services. Testimonials of Socialable's work can be found here.
Information About the Conference Organisers:
Counter Child Trafficking was founded by two UK based organisations, Touchpoint Child Protection and the Counter Human Trafficking Bureau. They are also working with their global delivery partner, Love146 Europe to form a force for change whose passion and aim is to fight for the cause of trafficked children and frontline practitioners all over the world.
Their vision for the future is that this Conference will become an annual event on the Counter Child Trafficking calendar and that it will grow into an invaluable support mechanism and resource for the global community working to eradicate child trafficking and exploitation. As they work together, they want to support the many organisations, groups and individuals across the world to build a collective voice to speak out against the exploitation of children through trafficking.
The partnership is supported by conference media partner, The Guardian Global Development Professionals Network, via its recently launched Modern-day slavery hub on The Guardian website.
This event is not about political debate and lobbying. The organisers fully realise that this is a crucial component in the eradication of child trafficking and exploitation, but feel that there are many forums where the global and national (political) debates are taking place and they are therefore not aiming to replicate that. Instead the programme aims to be about sharing and learning from frontline practice, experience and expertise.
See more at: The Global Event at a Glance
Research Links:
http://www.guardian.co.uk/law/2013/jun/11/human-traffickers-escape-justice-uk
http://counterchildtrafficking.org/bbc-calls-the-global-online-counter-child-trafficking-conference-a-major-international-summit/