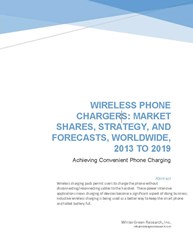 Rockville, MD (PRWEB) October 03, 2013
Wireless Phone Charging: Market Shares, Strategies, and Forecasts, Worldwide, 2013 to 2019
As people move to mobile devices and mobile computing, they tend to use their smart phones and tablets to access apps. These power-intensive applications mean charging of devices becomes a significant aspect of doing business. Inductive wireless charging is being used as a better way to keep the smart phone and tablet battery full. Setting the phone down on a pad for charging allows the user to interact with a mobile device in a more flexible manner permitting intermittent charging in a convenient and seamless manner.
Mobile manufacturers are positioning phone models with wireless charging to drive demand at the high end. Examples include the Samsung Galaxy S4, Lumia Smartphone from Nokia, the Nexus 4 from LG Electronics, and the Droid DNA from Verizon Wireless and HTC.
Many cell phone and smart phone vendors are making wireless power a reality. Wireless power is an emerging technology that creates a better charging experience for consumers. Just as Wi-Fi replaced the need to use an Ethernet cable for Internet connectivity, so is wireless power making recharging wirelessly a feature that is demanded by consumers.
According to Susan Eustis, lead author of the WinterGreen Research team that prepared the study, "Wireless phone charging, mobile computing, and smart devices represent the major forces impacting wireless phone charging. Phone vendors are coming together to create standards and to leverage standards to gain competitive advantage with highly differentiated product sets."
Consideration of Wireless Phone Charging Market Forecasts indicates that markets at $3 million will reach $33.6 billion by 2019. Growth comes as a result of the rapid adoption of smart phones that pushes the user base to 8 billion people by 2019. While wireless phone charging is considered a perquisite for a high end device, it is soon expected to become a necessary feature.
To order this report:
Wireless Phone Charging: Market Shares, Strategies, and Forecasts, Worldwide, 2013 to 2019
Contact: Shauna
800.298.5699
Customerservice(at)marketresearch(dot)com
About WinterGreen Research
WinterGreen Research, founded in 1985, provides strategic market assessments in telecommunications, communications equipment, health care, Software, Internet, Energy Generation, Energy Storage, Renewable energy, and advanced computer technology.
About MarketResearch.com
MarketResearch.com is the leading provider of global market intelligence products and services. With research reports from more than 720 top consulting and advisory firms, MarketResearch.com offers instant online access to the world's most extensive database of expert insights on global industries, companies, products, and trends. Moreover, MarketResearch.com's Research Specialists have in-depth knowledge of the publishers and the various types of reports in their respective industries and are ready to provide research assistance. For more information, call Cindy Frei at 240.747.3014 or visit http://www.marketresearch.com.
Follow us on Facebook http://www.facebook.com/marketresearchdotcom
Follow us on Twitter http://www.twitter.com/marketresearch_
Wireless Phone Charging: Market Shares, Strategies, and Forecasts, Worldwide, 2013 to 2019 – Table of Contents:
EXECUTIVE SUMMARY
1. WIRELESS PHONE CHARGERS MARKET DEFINITION AND MARKET DYNAMICS
2. WIRELESS PHONE CHARGERS MARKET SHARES AND MARKET FORECASTS
3. WIRELESS PHONE AND ELECTRONICS CHARGERS PRODUCT DESCRIPTION
4. WIRELESS PHONE CHARGER TECHNOLOGY
4.1 Short Distance Power Transmission
4.1.1 Inductive Charging
4.1.2 Inductive Charging Benefits
4.2 Wireless Charging Standards Bodies
4.2.1 Wireless Charger Qi Standard
4.2.2 Wireless Power Consortium Qi Standard
4.2.3 Qi and the Wireless Power Consortium
4.2.4 Qi and the Wireless Power Consortium
4.2.5 Qi Authorized Test Labs -
4.3 Alliance for Wireless Power (A4WP).
4.3.1 Spatial Freedom Product Design Issues
4.4 Power Matters Alliance
4.5 Operating Frequency Selection for Loosely Coupled Wireless Power Transfer Systems: RF Emissions and RF Exposure Requirements
4.5.1 Wireless Power Transfer (WPT) Systems
4.5.2 CISPR 11 Radiation Emissions Limits
5. WIRELESS CHARGERS COMPANY DESCRIPTION