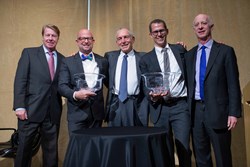 This is not just a story about two guys and a dream. It's story about the thousands who shared that dream and helped us realize it.
New York, NY (PRWEB) October 01, 2013
Friends of the High Line today announced that co-founders, Robert Hammond and Joshua David, were awarded the 15th Vincent Scully Prize from the National Building Museum in Washington D.C. Former recipients include some of the most prestigious architects and designers in modern history, such as Paul Goldberger (2012), Robert Stern (2008), Jane Jacobs (2000), and His Royal Highness Prince Charles, Prince of Wales (2005). The widely admired Prize recognizes Hammond and David's work in creating one of the most successful urban revitalization projects to date.
As a destination for New Yorkers and visitors alike, the High Line has grown beyond a typical public park, and has taken on the identity of a world stage, providing a venue for art showcases, educational programs, and cultural presentations. Last year, more than 4.4 million people visited the elevated park, which hosted 450 free public events and activities, curated 31 art installations, and expanded food concession and merchandise programs. Since its first section opened in 2009, the High Line has served as a catalyst for the re-development of Manhattan's West Side and has prompted more than $2 billion in investment in the neighborhood.
During the public award ceremony, David and Hammond presented an original talk, which included opening remarks by Paul Goldberger, Pulitzer Prize-winning architecture critic and a past recipient of the Vincent Scully Prize. Their talk, "Harnessing Friction," focused on how Friends of the High Line tapped the seemingly incompatible forces of money, real estate and politics versus community, preservation and design to create a new kind of public place for the 21st Century.
Joshua David said, "You might think that the lesson to take away is one of 'compromise' – how competing forces can give way to each other, helping a project advance. But more often, the pressures of competing forces did not give way, but continued to resist each other as they met, creating a friction – and energy. This unique energy is what fueled the High Line and created the place as we know it today."
"This is not just a story about two guys and a dream," said Robert Hammond. "It's a story about the thousands who shared that dream and helped us realize it. As much as we tried to choreograph it, the success of the High Line was ultimately a show of something greater than the creative or managerial powers of any one or two people or any single organization. If it had been more thoroughly controlled by any one of the players involved – a real estate developer, a traditional historic preservation group, and a single government agency – the High Line would not be the place it is today."
The National Building Museum established the Vincent Scully Prize in 1999 to recognize exemplary practice, scholarship, or criticism in architecture, historic preservation and urban design. It is named after Professor Vincent Scully, the Sterling Professor Emeritus of the History of Art at Yale University and Distinguished Visiting Professor at the University of Miami to honor his work and extend his legacy.
"We cannot help but be especially pleased that this year's prize is awarded to Joshua David and Robert Hammond," said Scully. "Neither architects nor planners, these two citizens of New York saw something in their city to which others, including specialists, were blind. They somehow perceived the aesthetic intensity and urban power of the great dark ruin that lumbered through their neighborhood and, uniting with other citizens, they saved it and delivered it at last into the hands of the architects and designers who brought it to its present state of pure delight."
This year, the Vincent Scully jury, led by chair David Schwarz, along with Deborah Berke, Gary Haney, Ned Cramer and Elizabeth Plater-Zyberk, selected David and Hammond in recognition of how the High Line has inspired new thinking about the potential to repurpose unused industrial infrastructure into active public space.
"Robert Hammond and Joshua David were selected to receive the fifteenth Vincent Scully Prize for their vision in transforming outdated infrastructure into the vibrant elevated park known as the High Line," said Scott Kratz, vice president for education at the National Building Museum. "The Scully Prize jury recognizes how their work inspires new thinking about the value of civic space as municipalities across the United States re-purpose bridges, train trestles, and even freeways into much needed community gathering places."
The honor comes just as Hammond plans to end his tenure with the organization he helped to found 14 years ago. Hammond was awarded a Rome Prize by the American Academy in Rome in 2009. In 2010 David and Hammond were both awarded the Jane Jacobs Medal for their work on the High Line.
As the High Line prepares for Hammond's departure, Joshua David, also a co-founder of FHL, will stay on and assume the new title of President, where he will continue to focus on fundraising and Board development.
About the High Line and Friends of the High Line
The High Line is an elevated freight rail line transformed into a public park on Manhattan's West Side. It is owned by the City of New York, and maintained and operated by Friends of the High Line. Founded in 1999 by community residents, Friends of the High Line fought for the High Line's preservation and transformation at a time when the historic structure was under the threat of demolition. It is now the non-profit conservancy working with the New York City Department of Parks & Recreation to make sure the High Line is maintained as an extraordinary public space for all visitors to enjoy. In addition to overseeing maintenance, operations, and public programming for the park, Friends of the High Line works to raise the essential private funds to support more than 90 percent of the park's annual operating budget, and to advocate for the transformation of the High Line at the rail yards, the third and final section of the historic structure, which runs between West 30th and West 34th Streets. For more information, visit http://www.thehighline.org.
About the National Building Museum
The National Building Museum is America's leading cultural institution dedicated to advancing the quality of the built environment by educating people about its impact on their lives. Through its exhibitions, educational programs, online content, and publications, the Museum has become a vital forum for the exchange of ideas and information about the world we build for ourselves. Public inquiries: 202.272.2448 or visit http://www.nbm.org. Connect with us on Twitter, @BuildingMuseum and Facebook.
+++
Media Contact
Ashley Tickle
Friends of the High Line
press(at)thehighline(dot)org
(212) 206-9922