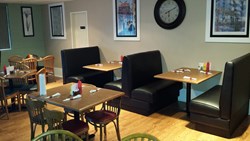 Minneapolis, KS (PRWEB) October 01, 2013
Restaurant furniture manufacturer and distributor, Affordable Seating, has helped Troy & Lorie's Café achieve a triumphant opening of a remodeled building that was a restaurant several years ago.
Troy & Lorie have remodeled this restaurant into a classic American café that serves breakfast, lunch, and dinner. It has seating for approximately 1800 square feet of space that has a classic café atmosphere in the front half and a cocktail dining area in the rear part of the restaurant. The Cocktail Area can be reserved for parties that are ordering off the menu.
Troy & Lorie's Café is a classic American cafe, taking pride in its food, which is made fresh daily. Serving breakfast, lunch and dinner on limited days of the week, the cafe makes fresh pies and features chicken fried steaks, charbroil burgers, and weekly specials. They serve steaks and seafood on the dinner menu. They pride themselves in being a very affordable, great tasting food destination.
The catfish special is a very popular selection along with a Philly cheese steak sandwich with the bun toasted on the grill. The hot beef is also a very popular with customers.
Troy & Lorie's Café called Affordable Seating looking for comfortable dining experience in the restaurant and cocktail lounge, but with new and durable furniture built to withstand heavy use for several hours weekly by families and young people. "The booths are always the first seating requested by our customers" claims Troy. It was important for the owners to make a good impression, but not waste a ton of money on new restaurant furniture.
Troy and Lori ordered Affordable Seating's Quick Ship Plain Back Single and Double Booths in 42". The single booths sell for $210 and the double booths sell for $342 in this height. The booths are also available in 36" height.
Affordable Seating is well known for its high quality booths, which can be customized. The quick ship booths, which are available in black and wine, are popular with customers and are delivered in just 7 – 14 days.
To view Affordable Seating's full selection of restaurant chairs, bar stools, booths, tables and patio furniture visit http://www.affordableseating.net or call a customer service representative at (888) 495-8884.
Check out Troy & Lori's menu at http://troyloricafe.com or call (785) 392-2233 for more details.