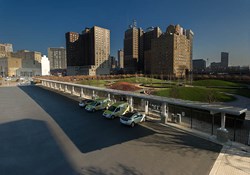 "This is our largest PV installation to date. It highlights the growing market for architectural structures integrating solar PV."
Canton, Michigan (PRWEB) October 01, 2013
Visitors who park at the Detroit headquarters of DTE Energy are experiencing first-hand the utility's commitment to renewable energy. Their vehicles are sheltered under a 285-foot-long by 22-foot-wide solar photovoltaic canopy custom-engineered by Duo-Gard Industries Inc. in Canton, Mich.
Installed in early 2013, the canopy integrates 336 solar panels, each generating 240 watts, for a total energy generation of 80 kilowatts (kW). The electricity generated returns to the DTE grid. Of the 29 parking spaces under the canopy, six accommodate the growing number of plug-in vehicles. DTE is one of the country's largest diversified energy companies and is Michigan's most prominent, providing both electricity and natural gas utilities. The company says it plans to generate nearly 1,000 megawatts of renewable electricity – enough to power 400,000 homes – by 2015.
"We decided we wanted to locate a renewable resource right at headquarters, so we chose the visitor's lot for the PV canopy," said Ray Zoia, DTE program manager. "We wanted something aesthetic that would complement the lines of our current architecture, and we liked Duo-Gard's waterproof system."
Duo-Gard's system, a proprietary product for the PV canopy specialist, is engineered with a closed, sealed skin and continuous components, eliminating gaps between panels. This achieves a weather-tight structure for the solar panel racking. DTE chose leading-edge, silicon-wafer solar panels from SolarWorld Industries America Inc. Duo-Gard engineered a custom aluminum extrusion system for DTE's project and also provided the steel structure; both fabrications were handled at Duo-Gard's in-house facilities.
"We're proud to have our system showcased in Detroit by DTE," said Michael Arvidson, Duo-Gard's executive vice president. "This is our largest PV installation to date. It highlights the growing market for architectural structures integrating solar PV."
Duo-Gard's engineers included unusual architectural appeal in their details by using rectangular hollow tubes capped at the ends and by including a majority of concealed fasteners plus custom-beveled covers for the anchor bolts. Custom-designed trays in the framing channels concealed all wiring, cables and black boxes for a clean, contemporary appearance.
"Reaction has been overwhelmingly positive from our executives, our guests and our employees," said DTE's Zoia. "We're very pleased with the design and the final outcome of the project. We consider our experience with Duo-Gard a positive one and are looking at the possibility of other DTE canopies."
DTE installed the canopy with Duo-Gard's on-site supervision and technical support. Project collaborators included SolarWorld, NOVA Consultants in Novi, Mich. as prime contractor and electrical distributor McNaughton-McKay in Troy, Mich.
About Duo-Gard Industries Inc.
Duo-Gard Industries Inc. is a leading innovator in high-performance translucent glazing systems for sustainable daylighting, as well as custom canopies including photovoltaics, bike shelters, bus shelters and outdoor structures. For over 30 years, Duo-Gard has advanced translucent technology with design, engineering, fabrication and installation of custom architectural products that enhance sustainability. Duo-Gard was established in 1984 and is based in Canton MI. The company was honored in May 2012 as one of the Michigan 50 Companies to Watch in 2012. For additional information, please visit http://www.duo-gard.com or call 734-207-9700.