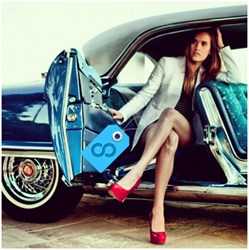 Cyber Monday follows hot on the heels of Black Friday and is also a time when cybercriminals, Identity thieves, malware writers, and online scam artists push their unsavory code and wares on unsuspecting online shoppers.
Santa Barbara, CA (PRWEB) November 26, 2013
Virtual World Computing makers of Cocoon, a cloud based privacy and security browser; released their annual Cyber Monday shopping tips guide to help consumers shop safely online.
Cyber Monday was the biggest shopping day of the year in 2012, with an increase of 30 percent over Cyber Monday of the previous year.
The 2013 Norton Report states that cybercrime continues to be a growing global concern. Both the total global direct cost of cybercrime (US$113 billion; up from $110 billion) and the average cost per victim of cybercrime ($298; up from $197) increased this year. With approximately 378 million victims per year (more than 1 million each day and 12 per second) —there are plenty of online victims for cyber gangs to attack.
It is also interesting to note that the report also found that while nearly half of all smartphone users care enough about their devices to sleep with them, they are not taking the basic precautions of backing up, installing security software, or using passwords.
With the growing popularity of mobile devices combined with public Wi-Fi networks — more consumers are becoming vulnerable to identity theft and online fraud. Cyber gangs frequently operate highly sophisticated attacks that are geared toward the retrieval of quick money. Their attacks are often combined with the use of carefully crafted social engineering techniques.
Backing up your computer and devices and using strong passwords is your first line of defense against cybercriminals.
Phishing scams are hot this year. Whether it is a tweet on Twitter, a private message on Facebook, or an email with a malicious link or attachment — don't take the bait this Cyber Monday!
VWC's Top 10 Cyber Monday Shopping Safety Tips
1. Backup & Update
2.Use Strong Passwords
3. Shop At Secure & Trusted E-TAIL Sites
4. Avoid Email & Social Media Phishing Scams
5. Avoid Free $1000 Gift Card Text Messages
6. Scrutinize Search Engine Results
7. Avoid Purchasing Counterfeit Goods
8. Protect Your Private Information & Avoid Using Debit Cards
9. Avoid Using Public Wifi & Secure Your Home Wifi
10. Be Wary Of Deals That Sound Too Good To Be True
You can read the entire guide at our blog or view our free ebook online.
About Virtual World Computing
Cocoon is a free, all-in-one Firefox plugin developed by Virtual World Computing (VWC) of Santa Barbara, California. Cocoon is also available for iPhone and iPad at the App Store. Cocoon's core business model is built on trust, and its mission is to put users in control of their Internet experience by ensuring that their computer and personal information is secure and protected from malicious attacks, invasive corporate and government snooping, and invasions of privacy.