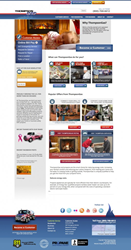 Hagerstown, MD (PRWEB) October 01, 2013
ThompsonGas, a commercial and residential propane provider servicing 10 states across the country, just announced the launch of a new website. The website features a new responsive web design with easier functioning navigation than the previous site. Designed and developed in collaboration with Maryland marketing firm Power Marketing, the new website maintains the same maturity of the ThompsonGas brand with a fresher look and feel.
"ThompsonGas.com users are very engaged and loyal propane customers," says ThompsonGas President/CEO Randy Thompson. "We restructured the navigation to make it easier for users to get where they want to go on our website. We based these changes on user patterns from the old site and pages with the highest traffic. The result is an updated, more informative website with better navigation and more emphasis on the propane services our customers rely on from us daily."
With a responsive web design, the new website is optimized for compatibility on all tablets, smart phones and other devices. Existing customers can access all customer-related options, like Online Bill Pay and Requests for Delivery & Repair, in the new Customer Access menu. This section allows current customers more flexibility and online options from the comfort of their own homes.
On the previous site, ThompsonGas locations were listed by state, so visitors were forced to search for the nearest town they recognized to find a store nearby. Now, users can search zip codes or city names to find the nearest ThompsonGas location and contact information. This feature is another way ThompsonGas made finding propane services and support team easier for their customers.
To see the new website features and other propane services offered by ThompsonGas, visit http://www.thompsongas.com.
About ThompsonGas:
With headquarters in Hagerstown, Md., ThompsonGas is among the fastest growing propane gas companies in the country. ThompsonGas' operations include the retail marketing, sale and distribution of propane to residential, commercial, industrial and agricultural customers. Today, ThompsonGas serves approximately 190,000 retail customers from more than 51 customer service centers throughout the U.S. ThompsonGas also operates a propane rail terminal in Baltimore that serves independent dealers and multistate marketers in the Mid-Atlantic region. To learn more, visit the company's new website at http://www.thompsongas.com.
# # #