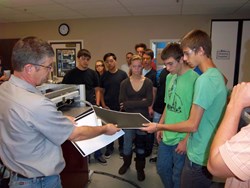 Manufacturing Day tours in Sacramento will encourage students to pursue technical education and consider Advanced Manufacturing careers.
Rocklin, CA (PRWEB) October 01, 2013
On Friday, Oct. 4, the nation will celebrate National Manufacturing Day with businesses offering tours to demonstrate modern fabrication and fascinating career opportunities. In Sacramento, companies are giving high school students tours as well as training that they can take back to their classrooms as part of the National Manufacturing Day celebration. Tours include:

RobbJack in Lincoln, CA hosts Colfax High School Trigonometry & Pre-Engineering students on Oct. 2
RobbJack hosts Rocklin High School Engineering Support Technology students on Oct. 4
Harris & Bruno in Roseville, CA hosts Oakmont High School Design Tech students on Oct. 9
Progressive Technology in Rocklin, CA hosts Del Oro High School Programming students on Oct. 9
Sierra College Center for Applied Competitive Technologies (CACT) through the Sierra Science, Technology, Engineering & Math (STEM) Collaborative coordinated with schools and businesses to arrange the Manufacturing Day events, explained Carol Pepper-Kittredge, director, CACT, Sierra College. "When students see highly automated tools, talk with employees about their work and are encouraged by career opportunities, they are much more likely to imagine themselves working for local manufacturers," said Pepper-Kittredge.
"This year, the students are going to learn something during the tours that relates directly to their high school class," said Pepper-Kittredge. "For instance, students from Colfax High School will learn how trigonometry is used in the design, engineering and manufacture of precision cutting tools at RobbJack. Rocklin High School students will see how process improvement and organizing work spaces is used to maximize productivity on their tour of RobbJack. They can use what they learn to organize tools in the lab."
The goal of Manufacturing Day locally and nationally is to change the perception of manufacturing and encourage students to pursue technical education that will prepare them for 21st Century manufacturing careers. "Manufacturing today is conducted in very clean, highly automated and collaborative environments," said Pepper-Kittredge.
"They will see how the skills that they are learning in class are applied in a business setting. During the tours, students will learn about products, made in the Sacramento region, that are shipped globally to make a difference in people's lives." For example, Progressive Technology makes transparent Sapphire Orthodontic Braces as well as other advanced ceramic products used in electronics, mining, semi-conductor and bio-medical industries. Harris & Bruno designs and manufactures commercial printing press products that are used all over the world.
About Sierra College CACT
Sierra College Center for Applied Competitive Technologies (CACT) is focused on Advanced Manufacturing and is funded through the Workforce and Economic Development program of the California Community College Chancellor's Office. Since 1992, the Sierra College CACT has provided customized training for organizations, manufacturers and technology companies throughout Northern California. Through the STEM Collaborative, Sierra College works with middle and high schools to promote STEM Education and careers. Additional information is available at http://www.sierracollegetraining.com or contact Carol Pepper-Kittredge at 916-660-7801 or cpepper-kittredge(at)sierracollege(dot)edu.