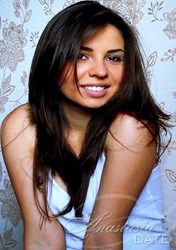 (PRWEB) October 02, 2013
AnastasiaDate, the top international dating website, recently implemented a range of improvements to enhance online services for its members. The company, known for using the latest advances in technology, made the improvements so the popular website would continue to work perfectly for its millions of members.
In addition, AnastasiaDate has improved some of the services available on its mobile app. The company works hard to maintain its lead as one of the best dating services online and in order to do this, regular improvements are made to all the internet services.
The AnastasiaDate web development team is made up of highly gifted professionals who work non-stop to make sure it is running smoothly at all times. The goal of the development team is to make online dating as easy, simple and enjoyable as possible.
The new improvements have been extremely well received by members, who have reported the changes as brilliant, making an excellent service even better. AnastasiaDate receives praise from its happy members on a regular basis and it is always pleased to see positive feedback.
The company has also improved its popular mobile app. The AnastasiaDate mobile app is available to download free from Google Play. Thousands of members are downloading it so they can enjoy dating online wherever they are. Because of the international nature of the website, members are logging on at all times of day and night and, as a result, the mobile app has become very popular. For members who are busy at work, it has been especially useful. They can log-on and check messages or connect with dates directly from their phones and mobile devices.
By focusing on delivering the highest quality service, and using the latest technology, AnastasiaDate is giving members an exclusive, high-end, online dating experience. As a result, the most successful people are attracted to the website. High profile business people, media professionals and models are all rushing to join the leading dating site.
By working hard to keep members happy, the company is continuing to experience huge growth. While other online dating companies are struggling to compete, AnastasiaDate is maintaining its lead and staying firmly positioned at the top.
The company believes the excellent feedback and reviews it receives from delighted members is another reason for its continued success. Since the advent of social media, news of the website has spread very quickly around the internet and literally millions of people have logged-on to join AnastasiaDate.com.
For over twenty years the company has successfully helped thousands of couples to find love and romance across the miles. And because it has always kept up with technology and the latest developments in online dating, it has managed to grow and improve over the years.
The popularity of the site, and the high regard in which the company is held by its members, is testament to the hard work and dedication shown by all who work for AnastasiaDate.com.
About Anastasia Date
AnastasiaDate is the leading international dating service that facilitates exciting and romantic companionship with beautiful and interesting women from all over the world. Founded in 1993 by a Russian-American couple, AnastasiaDate now has over 4 million international users and attracts more than 10 million online visits monthly. Additionally, over 1.5 million conversations are exchanged onsite daily. AnastasiaDate is committed to member safety, customer satisfaction and the ongoing pursuit of innovation. Headquartered in Moscow and New York with additional representation in every country it touches, AnastasiaDate provides a high level of customer service to a worldwide clientele. AnastasiaDate users are able to communicate across a variety of top-notch multimedia platforms, including Video Chat and a mobile app for Android devices available in the Google Play store.