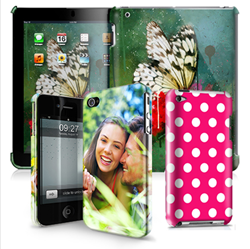 Wrappz opens up a box of customised cases and ideas.
(PRWEB UK) 1 October 2013
Wrappz has rapidly established itself in the market with an excellent offering for smart phone and tablet users who want to protect their beloved gadget. Along with an extensive range of devices on offer, the company have developed the most advanced custom software application in the market enabling the consumer to design their case simply.
The online company has watched the recent phenomenon of consumers wishing to personalise their tech and responded by creating an application to enhance the growing trend. Their ethos revolves around giving the consumer the choice to design their own case and stamp some of their own personality on it. Everyone has different tastes, and unlike most purchases where the item bought has some pre-designed pattern or image already printed, the guys at Wrappz believe that giving the consumer the opportunity to stand out from the crowd with a personalised case makes the purchase inevitably more fun and personal.
The Wrappz custom application tool is both highly functional and visually user friendly. There are currently around 15 different device templates available, and the range increases as new popular models are released into the market. Once a device is selected, the user can upload their own designs or images or alternatively select from the extensive image library on offer of background and other images. The custom builder then allows the consumer to manipulate the image, add text, add further images, rotate, change the hue - basically do whatever they want!
The actual cases are made from 100% polycarbonate and are the most premium cases available. Needless to say, these won't hamper the actual functions of the phone or tablet and will actually expedite it's usage by making the grip more convenient.
With the advent of Christmas upon us, customised cases from Wrappz make an excellent, affordable gift to your loved ones. Gift vouchers are available to buy online in different denominations, and it is worth joining the wrappz Facebook group to receive special discounts and offers making the proposition even more attractive.
For more information, please visit their online store at http://www.wrappz.com.