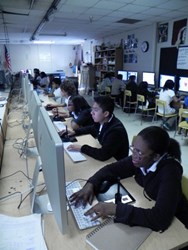 Salt Lake City, UT (PRWEB) October 02, 2013
Ever-tightening budgets make it more likely that educators will seek grants to introduce new programs and projects to students who need them most. If the types of projects educators piloting today are any indication, numbers is the name of the game. From studying economics in a new way, to incorporating the Mariachi music in courses, it's a very exciting time to return to school - especially if your school is benefitting from the $141,468 investment McCarthey Dressman Education Foundation disbursed in educational grants and scholarships this year.
Sarah J. McCarthey, President of the Foundation remarked, "The projects are outstanding in their conceptual sophistication, their real-world significance and their collaborative focus. Our newly funded projects help students achieve Common Core Standards, but also go beyond the standards to develop innovative contributions to their communities."
"Academic Enrichment Grants integrate hands-on learning with a focus on real issues and problems," noted McCarthey. "What is amazing is how collaborative efforts bring students from different backgrounds together while improving academic performance." One way teachers at Lakeridge Junior High in Orem, UT are tackling this is in a project called Sustainable Education Through International Understanding. Integrating sustainable education through international understanding helps students think globally while making connections to their daily lives.
Serving a primarily minority student body in Tucson, AZ, the educators at Billy Lane Lauffer Middle School have chosen a different beat. Students involved in music tend to excel in math, reading, learning rhythms and decoding notes and symbols. The Mariachi Cascabel Youth Organization project aims to improve academic skills while giving their students a chance to connect with their roots and culture.
Educators also benefit from mentorship and resources to improve their practice. Teacher Development Grants provide funding for training and support needed for enrichment. "The teamwork among teachers of different levels of experience, expertise and specialization will significantly contribute to the quality of teaching and learning," commented McCarthey.
Project RENEW at West Elementary School, Manhattan, KS focuses on the developing knowledge among teachers. This project is being spearheaded by three rural districts in Kansas with an ultimate goal of taking it statewide. With a much higher focus on Common Core State Standards for Mathematics, teachers are realizing they will need to rethink their approach to teaching mathematics.
The teachers at Poudre High School, Ft. Collins, CO are looking at mathematics education from a different angle. They are trying the Workshop Model: Building Students' Self Esteem and Ability to Think Mathematically. Teachers will guide students collaborating with their peers to solve specifically designed problems and present to each other as "math experts." Teachers will explore new ways to have students engage with mathematics as well as creating more effective classroom management, questioning techniques, and formative assessment to improve future instruction.
In 2013-2014, the Foundation has funded two new Academic Enrichment Grants at middle schools serving minority and economically disadvantaged students; two Teacher Development grants at a middle school and elementary school with similar demographics; and two student teacher scholarships. Recipients include:
● Merinda Davis - Lakeridge Junior High School, Orem, Utah - Academic Enrichment Grant
● Daniel Dong - Billy Lane Lauffer Middle School, Tucson, Arizona - Academic Enrichment Grant
● Kelly Shank - Poudre High School, Ft. Collins, Colorado - Teacher Development Grant
● Angie McCune - West Elementary School, Manhattan, Kansas- Teacher Development Grant
● Rebecca Guerra, New Mexico State University, Las Cruces, New Mexico - Scholarship
● Katherine Leung, University of Texas at Austin, Austin, Texas - Scholarship
Including the grants and scholarships listed above, the McCarthey Dressman Education Foundation funded 22 enrichment efforts for the 2013-2014 school year. Recipients include the New York Urban Debate League and The Water Quality Project. The application deadline is April 15 of each year for proposals with significant potential to enrich the educational experiences for youth. To learn more visit mccartheydressman.org.