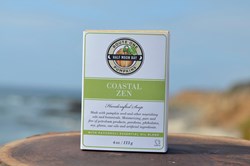 "Our soap is made in small batches, by hand, with the purest, nourishing vegetable oils and pure essential oils. You will be astonished at the difference in your skin." Sandra Klein, Route One Pumpkins
Half Moon Bay, CA (PRWEB) October 01, 2013
For some, handcrafted soap is fun, beneficial, and they don't need to justify its purchase. For others, traditionally handcrafted soap of the quality produced by Route One Pumpkins in Half Moon Bay may be a new discovery and they cost a barrier versus inexpensive detergent-based bars in the local store or the convenience of liquids, which have been marketed to us as improvements on the traditional bar. Here are a few things to consider if you have never thought about buying and using handcrafted soap:
1. Handcrafted soap is made with natural, wholesome ingredients that cleanse without stripping skin of its natural oils. In contrast, commercially-made bars are made with chemical additives or synthetic detergents. These additives and detergents dry out the skin and may create rashes and other irritations that compromise the natural barrier function of the skin. If natural healthy ingredients are used in a commercial bar, the quantities are too small (often called pixie dust for marketing purposes) to be truly beneficial. To illustrate the difference between the effects of commercial and handcrafted soap, consider those who suffer from psoriasis or eczema; many have found that commercial bars make their condition worse, while handcrafted soaps brought relief.
2. Handcrafted soap is real. Since commercially-made bars are made with synthetic detergents, they cannot even legally use the term "soap." Instead, they may be called "beauty bars," "cleaning bars," "cream bars," or something similar. Since Route One Pumpkins' handcrafted soap is made with real and wholesome ingredients---e.g. food-grade and organic sunflower, pumpkin and olive oils, coconut oil, castor oil, water, beeswax, and essential oils---the end result is a real and wholesome product.
3. Handcrafted, cold-process soap contains glycerin to moisturize skin. Glycerin is a humectant; it attracts moisture and softens your skin. Glycerin is not merely added to handcrafted soap. Rather, it is naturally created in the process of mixing water, oils, and butters. In handcrafted soap, the glycerin is left in place. In commercially-made bars, however, glycerin is thought to be valuable, and so it is extracted for use in other more profitable, moisturizing products. The absence of glycerin is another reason that commercial bars dry out the skin.
4. Handcrafted soap smells wonderful! Sometimes, handcrafted soaps may retain the rich scent of their natural oils. More often, handcrafted soaps have been made with essential oils that give off their healing properties and luscious scents.
5. Route One Pumpkins' handcrafted bar soap is better for the planet. Made with locally-sourced organic pumpkin seed oil in combination with other organic and sustainable oils with no petroleum-based products or detergents and guaranteed free of phthalates, it is completely biodegradable and can be safely used with septic systems or while camping. And the bar is easy to use and ship and packaged in 100% recycled and recyclable paper boxes printed in a solar-powered plant. By contrast,even natural liquid soaps contain a lot of water, packaged in a plastic bottle and this inefficient, heavy product shipped, creating yest more greenhouse gasses.