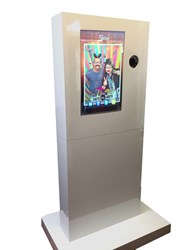 For many people social media lives and actual social lives are directly connected.
(PRWEB UK) 31 October 2013
Megabooth have introduced an exciting new product into their range of photo booths. They were the premier provider of taxi photobooths and this new product brings technology and social media to the forefront of their service.
Rachel Posner, Managing Director of Megabooth said, "We saw potential for another new product to add to Megabooth's services. What's the last thing we all do before going out and the first thing we do the morning after a big night? Check our latest updates, post photos and videos and share what we're doing via social media. Posner goes on to say for many people social media lives and actual social lives are directly connected. So megabooth simply built a new photo booth that retains all the fun of previous booths but directly connects our users with their social media accounts so they can share photos with friends and family at the push of a button."
Celebrity event favourite, Megabooth have acknowledged this link and people's desire to share quirky photos with their friends and family via social media with their brand new Social Pod release. Party Photo Booths are the hugest trend at big name company events and celebrity parties alike and guests can take their own hilarious, instant photos assisted by comedy props and accessories against funky backgrounds. The new Pod has already been a huge hit with guests at some high-profile outings, including the auction of 'Slave Labour' by guerrilla artist Banksy and the Clothes Show TV launch party.
The Pod is a full-size version of popular photo phone applications. The guests simply use the touch screen features to take snaps of themselves and their friends, choose up to 6 Instagram filters to the picture and then add digital props to make their photos even funnier.
Guests can add a bowler hat or dandy moustache in a flash along with a cute animal to join them. When guests are happy with their virtual edits, they can upload their photos straight to their Facebook or Twitter accounts to share with the world. Guests can even send the photos directly through email or SMS and, of course, print them out to take with them.
Elliot Gold, Head of Events at Megabooth said, "We are excited about the new Social Pod and its already gone down a storm at recent events. With people already heavily connected via social media on their mobile phones this new photo booth makes sharing great, quirky images faster than ever before."
This exciting new generation of instant photos is set to be as big, if not bigger than the popular photo wall and classic car styles that Megabooth already offers and is bringing the instant photo sharing trend to a higher level than ever imagined.
Contact: Rachel Posner 0203 225 5511 for further information.