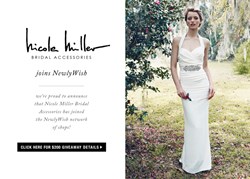 New York, NY (PRWEB) October 01, 2013
Known for their unique registry and gifting options, NewlyWish has expanded its bridal accessory offerings with a Nicole Miller Bridal Accessories shop. Nicole Miller, a well-known and respected American fashion designer, is now offering bridal veils, belts, and hair accessories through NewlyWish.
Amanda Allen, founder of NewlyWish, shares her excitement about the Nicole Miller Boutique launch, "I'm so thrilled to have Nicole Miller open her own boutique on NewlyWish. Not only can you find the perfect veil, but Nicole Miller accessories are super versatile, too. For example, you can add a pretty hair pin on your sash as you walk down the aisle for a more traditional wedding day look, then place it in your 'do for a jazzier reception style. The options are endless."
Brides visiting NewlyWish may simply click on the Nicole Miller Boutique and choose from the wide array of bridal adornments to accessorize their wedding ensemble. Or, for those brides looking for a unique way to say "thank you," the Nicole Miller belts and hairpins may be purchased as wedding party gifts for bridesmaids or mother-in-laws to be.
Nicole Miller reveals her design inspiration behind the collection, "I design my bridal collection to be understated and modern – our bridal accessories are a great option for the bride who wants to add a personalized touch to her final bridal look."
For more information about Nicole Miller Accessories on NewlyWish, please contact Amanda Allen at 212.348.6115 or amanda(at)newlywish(dot)com.
About NewlyWish: NewlyWish is an online registry and wedding-related gifting service, with the express purpose of helping couples create gift registries that truly reflect their personal styles. They've built a network of more than 50 shops in a single, easy-to-use website so that couples can create a registry that includes everything for their home, from kitchen equipment, to tabletop items, bed and bath linens and home décor, as well as a range of unique experiences and less-traditional items such as food and wine, cooking and dancing lessons, artwork, museum memberships, and even tickets to the theater and sporting events. Plus you can find wonderful wedding party gifts and unique bridal accessories curated by some of the best in the business. To learn more, visit http://www.newlywish.com.
About Nicole Miller: Nicole Miller is a fashion designer with a modern, ageless aesthetic. She brings her signature design ethos to her bridal accessories collection, resulting in an assortment of sashes and veils with a vintage, elegant feel. Since the first Nicole Miller Bridal Collection debuted in 2003, Miller has been catering to brides looking for sleek, modern alternatives to the traditional wedding gown. Miller's accessories are artfully created for a destination wedding or a more elegant affair. For more information, visit http://www.nicolemiller.com/bridal.