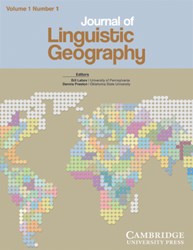 The Journal of Linguistic Geography is designed to transform the way we communicate with each other through new ways of displaying and accessing information - putting the author and reader in charge in a way they have never been before.
(PRWEB) October 01, 2013
Cambridge University Press is pleased to announce the launch of the new digital Journal of Linguistic Geography (JLG). Using a unique new template for disseminating journals research, JLG offers easy access to learning through interactive digital tools.
Co-editors William Labov (University of Pennsylvania) and Dennis Preston (University of Oklahoma) state in their Foreword that "in no other field is the gap between the gathering of data and the analysis so great. The stacks of our libraries are filled with magnificently conceived and executed atlases of linguistic geography. File cabinets throughout the world are filled with papers that have never appeared in print, faced with the problem of reducing maps to miniature black-and-white versions that convey only a small part of the information in the original."
JLG's digital tools allow readers to interrogate maps and figures using panning and zooming functionality; to listen to sound samples embedded in the text, and to consult large appendices. The journal features scalable maps and figures and searchable and downloadable data sets.
A dedicated Technical Editor will work with authors to decide which graphic and audio tools will most enhance their articles. The journal also comes with a built-in User Guide to help readers get the most from its features. JLG is hosted on the Cambridge Journals Online (CJO) platform, and benefits from its state-of-the-art functionality.
Labov commented: "We are delighted that Cambridge has launched our new journal into the digital age. JLG is designed to transform the way we communicate with each other through new ways of displaying and accessing information - putting the author and reader in charge in a way they have never been before. The publication of work in dialect geography in particular has been severely hampered by the limitations of black-and-white print and we look forward to a format that will display the rich insights to be gained from studies of language in its spatial dimensions."
Preston added: "Quite simply, we want JLG to help linguistics professionals, and anyone interested in the subject, to better understand how language is made and how it changes. We welcome submissions from across the field and look forward to a lively exchange of ideas and information."
Chris Fell, Cambridge University Press Digital Publishing Director, said, "The Press is excited to be working with researchers exploring the potential of digital publishing. We look forward to continuing to learn together as JLG grows."
The first edition of JLG features articles on:

Settlement patterns and the eastern boundary of the Northern Cities Shift
A multivariate spatial analysis of vowel formants in American English
Geographic information systems and perceptual dialectology
A book review of Areal features in the Anglophone world
The Journal of Linguistic Geography will be published biannually. View the first edition at http://journals.cambridge.org/JLG.
Notes to Editors:
For further information and to arrange interviews, please contact Michael W. Marvin, Senior Marketing Associate, Cambridge University Press by email at mmarvin(at)cambridge(dot)org or by phone at (001) 646.460.3467.
About the Journal of Linguistic Geography
JLG focuses on dialect geography and the spatial distribution of language relative to questions of variation and change. The journal examines topics in dialectology, sociolinguistics, historical linguistics, language in its sociocultural environment, typology, and investigations of the theoretical contributions by geographically based studies to general linguistics. Articles inclusive of maps, sound files, and data sets, as may be appropriate, are welcomed.
http://journals.cambridge.org/JLG
About the Editors
Professor William Labov teaches in the Department of Linguistics at the University of Pennsylvania, where he has been based since 1971. A graduate of Harvard, he gained his Phd and was Assistant Professor at Columbia. His books include The Social Stratification of English in New York City and Language in the Inner City. He co-edits Language Variation and Change and the Journal of Dialect Geography. He is the President of the Linguistic Society of America, a Member of the National Academy of Arts and Sciences and a Fellow of the American Association for the Advancement of Science.
http://www.ling.upenn.edu/~wlabov
Dennis R. Preston is Regents Professor in the Department of English at Oklahoma State University. He is Director of RODEO (Research on the Dialects of English in Oklahoma) and Co-Director of the Center for Oklahoma Studies. A Fellow of the Linguistic Society of America, he has written and lectured on subjects as diverse as the vocabulary of coal miners in the Eastern US, the poetry of W.B. Yeats and extensively on folk speech.
http://english.okstate.edu/faculty/fac_pages/preston.htm
About Cambridge Journals
Cambridge University Press publishes more than 300 peer-reviewed academic journals across a wide spread of subject areas, in print and online. Many of these journals are the leading academic publications in their fields and together they form one of the most valuable and comprehensive bodies of research available today.
About Cambridge University Press
Cambridge University Press is the publishing business of the University of Cambridge. Dedicated to excellence, its purpose is to further the University's objective of advancing knowledge, education, learning, and research.
Its extensive peer-reviewed publishing lists comprise 45,000 titles covering academic research, professional development, over 300 research journals, school-level education, English language teaching and bible publishing.
Playing a leading role in today's international market place, Cambridge University Press has more than 50 offices around the globe, and it distributes its products to nearly every country in the world.