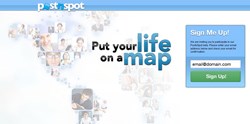 Las Vegas, NV (PRWEB) October 01, 2013
This week marks a significant milestone for CitySpoon, Inc. and its social networking project SpoonerSpot, as the site's concept has been successfully re-envisioned by a new team of developers in the form of PostNSpot. The beta is currently open to the public and available free of charge. This opening period will be used to focus on clearing out bugs and defining what features should be focused on to improve user experience as the site moves forward. PostNSpot hopes to draw users interested in breaking away from the linear format of other social networks by allowing them to express themselves through words, photos, and vidoes over the canvass of the world map.
The new PostNSpot site has some of the same great features as the previous site, as well as some imaginative new additions. The user interface itself has been completely re-imagined, and the backend of the has been overhauled and streamlined in order to allow the PostNSpot to quickly resolve bugs and institute new features and updates in an expedited timetable. The notifications feature has been carried over, as well as the 'friending' system, and the ability to connect one's account with Facebook. One of the most important new additions is the ability to add photos and videos to posts, increasing the visual appeal and level of interaction available on the site.
The original idea of SpoonerSpot was to create a location-based social networking site where users can express their life on the canvass of the world map. However the SpoonerSpot site was only a rough draft, an outline of what the concept could become. CitySpoon decided that in order to see the geo-location social network concept fully recognized, SpoonerSpot needed to be moved under a new umbrella. Earlier in 2013, CitySpoon executives decided to hand over the development of the new site to a newly created group of developers and social media entrepreneurs who subsequently created PostNSpot as the new home for the project.
PostNSpot is not merely an update to SpoonerSpot; it's a whole new website entirely. However, it still carries over many similar functions, as well as the posts and metadata from SpoonerSpot so old users can continue on the new site. Additionally, the old site will remain active during the transition period. The original concept of creating a social networking where posts are based on location has been imagined into a greater and more complete vision, and the beta version of the new PostNSpot site is now open and free to the public.