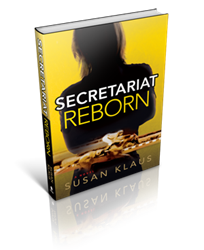 Secretariat Reborn is a galloping read and sure to be a winner. — Fresh Fiction
Longboat Key, FL (PRWEB) October 01, 2013
SECRETARIAT REBORN by Susan Klaus is now available in hardcover (ISBN: 978-1-60809-094-5, Thriller, 280 Pages, List Price $26.95) and all e-Book formats (ISBN: 978-1-60809-095-2, List Price: $14.95)
The Buzz:
"Klaus crams a lot into her debut thriller, which combines thoroughbred horse breeding, mob skullduggery, and a love-crazed stalker…thanks to Klaus's infectious love of the Florida setting, the horse-breeding milieu, and her handsome protagonist."
—Publishers Weekly
"SECRETARIAT REBORN is a galloping read and sure to be a winner."
—Fresh Fiction
"SECRETARIAT REBORN by Susan Klaus carries a finely tuned plot."
—Bookloons.com
Oceanview Publishing provided the following synopsis:
"Christian Roberts, lanky, blond, and twenty-five-years-old, rents out small sailboats on Sarasota Bay. His peaceful life is shattered when he accepts a Thoroughbred colt from his estranged, dying father, an Ocala horse trainer.
When Christian promises his father that he'll race the colt, he's plunged into the underworld of horse racing. To navigate his way he naively hires Ed Price, a heartless Miami trainer. And when his colt shows potential — a surprising resemblance to Secretariat — a dubious wealthy sheik wants to buy him, but Christian vows to keep his promise to his father. With a sizable debt still owed on the horse, Christian is forced to take out a loan, his only recourse, Vince, a New York mobster. If the money is not repaid on time, Christian's life and that of Allie, his colt's trainer, are threatened. To add to his rollercoaster of troubles, he faces fraud charges since his father illegally registered the colt, and he is being stalked by a psychotic ex-girlfriend."
SECRETARIAT REBORN is available through all major and independent booksellers.