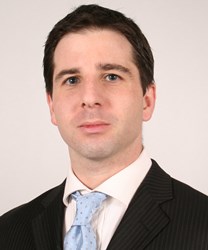 "I have met very few lawyers who have as high of a command of the law in his or her specific practice area as Seth."
Chicago, IL (PRWEB) October 01, 2013
Neal, Gerber & Eisenberg LLP is pleased to announce that Law Bulletin Publishing Company has named partner Seth D. Lamden as one of the 2013 "40 Illinois Attorneys Under Forty to Watch." The honor recognizes 40 Illinois attorneys under the age of 40 who demonstrate excellence in the legal profession and are viewed as "up and comers" by fellow attorneys and others in the legal profession.
A partner in the firm's Insurance Policyholder group, Lamden is dedicated to helping clients enforce their coverage rights under virtually all types of insurance policies, with a focus on maximizing recovery while minimizing protracted, costly, and disruptive coverage disputes. Through negotiation, mediation, arbitration and litigation, Lamden has been instrumental in recovering hundreds of millions of dollars in insurance proceeds for policyholders from a broad array of industries and for a wide variety of claims and losses, including professional liability claims, consumer class actions, environmental claims, "construction defect" issues, product liability claims, directors and officers liability claims, and various business interruption losses.
Nominators for the "40 Under Forty" award noted that Lamden, 39, is a talented writer who has authored more than three dozen articles and five book chapters relating to insurance coverage and is a frequent spokesman on insurance coverage matters. "I have met very few lawyers who have as high of a command of the law in his or her specific practice area as [Lamden]," said a nominator. "His knowledge, organization and preparation I credit for his reputation as a leading lawyer in the area of insurance coverage."
Others noted Lamden's ability to resolve complicated insurance matters quickly and effectively. "We worked together on a large and contentious insurance coverage matter, and despite difficult opposing counsel and complex and unwieldy facts, [Lamden] put together and then executed on a litigation plan that achieved fantastic results for our client," said a nominator.
About Neal Gerber Eisenberg
Neal Gerber Eisenberg is a Chicago-based law firm whose lawyers share a culture of teamwork and devotion to personalized client service to advance clients' business interests throughout the U.S. and beyond. Our lawyers provide legal business solutions to public and private entities of all types in connection with domestic and global business transactions and litigation. Our client base reflects a number of Fortune 100 companies, financial institutions, nonprofits and high net-worth individuals. Although the firm has one office in Chicago, it represents clients throughout the world. A steadfast devotion to our single-office concept ensures that our clients will never get lost in a shuffle of thousands of lawyers or multiple worldwide offices. With nearly 165 attorneys, the firm is suited to handle nearly any legal matter, yet small enough so clients personally know the lawyers accountable to their matters.
# # #