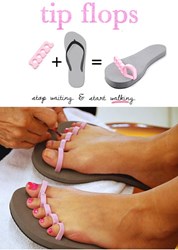 Tip Flops is a real game changer, once you try it, you can't imagine going back. - Owner Kevin Rutledge
Los Angeles, CA (PRWEB) October 01, 2013
Tip Flops is an innovative, strapless sandal that combines a toe separator with a standard flip flop, allowing you to "Stop Waiting & Start Walking" after a pedicure. The patent pending design is more than an everyday flip flop; it is a fashion accessory. The sleek gunite shoe structure complements the vibrant pink toe separator.
Tip Flops is already gaining popularity. Santa Monica based salon Lovely Nails, is excited about pre-ordering Tip Flops. Owner Christine recently said, "I look forward to ordering these through KickStarter because I know my clients will reuse them again and again." Lovely Nails will be setting the trend in Santa Monica that will quickly spread across the nation.
During the 30 day pre-sale, inventor and entrepreneur, Kevin Rutledge will revolutionize the functionality of flip flops. Check out Tip Flops on Kickstarter.com and become a part of the global community to contribute to the success of Tip Flops. The KickStarter Campaign will be continuous until November 3, 2013. "Stop Waiting & Start Walking" to Kickstarter.com
For more information or if you'd like to schedule an interview with Kevin Rutledge, please email TipFlops(at)gmail(dot)com or call 424-442-9887.