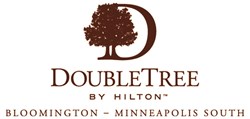 Bloomington, MN/Denver, CO (PRWEB) October 01, 2013
Officials of Richfield Hospitality, a leading hotel management company, announced the appointment of Robert Pottberg as the new general manager of the newly renovated Doubletree by Hilton Bloomington Minneapolis South hotel.
Pottberg most recently served as general manager of the Crowne Plaza Syracuse hotel in Syracuse, NY. He has over 20+ years of industry experience and has held numerous senior leadership positions with Hilton, IHG, Starwood and Omni hotel organizations.
Pottberg will take the reins at a crucial time in the hotel's history, according to Greg Mount, president of Denver-based Richfield Hospitality. The hotel has just completed a multi-million dollar renovation that included all public spaces, meeting rooms and guest rooms of the main tower. This landmark hotel will continue to benefit from this fresh, contemporary refresh, as it is host to weddings, anniversaries, conventions, business meetings and other special occasions.
"We are excited to move Pottberg into this iconic Bloomington hotel to further its success," said Mount. "Robert Pottberg is a proven General Manager with exceptional operational and fiscal leadership. He does a terrific job maintaining key relationships with clientele, service teams and owner representatives. Best of all, he knows how to energize a hotel to capture the lions share of the marketplace."
With the completion of its extensive renovation, the hotel is reclaiming its position as the premier business and events destination in the Twin Cities. Located in the heart of Bloomington at 7800 Normandale Blvd., the DoubleTree by Hilton Bloomington is just 10 minutes from the Minneapolis-St. Paul International Airport and the Mall of America. The hotel is the largest in Bloomington and has the Twin Cities' second largest hotel meeting space, with 38 meeting rooms aggregating 70,000 square feet of space, capable of accommodating groups ranging in size from five to 1,250 people.
About Richfield Hospitality
Richfield Hospitality, Inc. is a leading hotel management company with a premier track record of maximizing profitability and improving asset values for hotel owners. From hotel operations and property management to electronic distribution and interactive marketing, Richfield achieves superior operating results through its strong commitment to guests, employees and owners. Based in Denver, Richfield is part of City Developments Limited, one of the world's largest real estate, hotel investment and technology conglomerates with a market capitalization exceeding US$7 billion. Additional information about Richfield Hospitality may be found at the company's website: http://www.richfield.com.