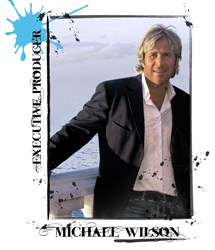 New York, NY (PRWEB) October 01, 2013
With many of this year's festival spectators likening the project to some of the funniest years of "Saturday Night Live" and "MadTv," "The Men's Room," an ensemble-based sketch-comedy show, created a lot of buzz and took home the ITV Festival's top honor of "Best Television Comedy" this past weekend in West Dover, Vermont.
Ironically the show's Creator and Executive Producer, Michael Wilson, happens to have very close ties to one of those noted productions, as his father, Dave Wilson, was the man behind the cameras for the first 20 years as the original Director of "Saturday Night Live." "To say that I grew up on the set of SNL could be accurate," noted Wilson. "As it was certainly a very big part of my childhood, and although the 'The Men's Room' isn't the first sketch-comedy show I've produced, it certainly has been the one that has brought back the most memories of my experiences as a kid around SNL."
"The Men's Room" truly features a multi-talented cast of nine gifted performers, but perhaps adding to Wilson's nostalgia is the inclusion of cast member, Robert Belushi, whose father, Jim, and late uncle, John, were both series regulars at SNL. "Yes, it was certainly a 'rack-focus' moment when Robert came in to audition for the show," Wilson added. "As I was actually working on SNL when his father Jimmy was a cast member, and his uncle John was like a big brother to me growing up."
During the project's Q&A session with both Wilson and cast members Sitara Falcon & Cooper Barnes, Wilson shared that although the production was making its official debut at the ITV Festival this year, they've currently been presenting the series to potential broadcasters and are most excited about discussions with the Tribune Station Group, placing the series in their late-night lineup on Saturday nights.
Although many attending the festival thought that there were many networks that could certainly benefit with a trip to "The Men's Room," we're betting that television audiences will be laughing it up in "The Men's Room" sometime soon.
The series stars Cooper Barnes, T'Shaun Barrett, Scott Beehner, Robert Belushi, Sitara Falcon, Mark Gagliardi, Marta McGonagle, Jo Newman, Bruce Wexler, and was created by and executive produced by veteran sketch-comedy, and Emmy-nominated television producer Michael Wilson, whose credits include "Saturday Night Live" and "Politically Incorrect."
For a short time the pilot episode can currently be screened at the production's website: Themensroomtv.com.