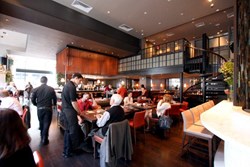 We pride ourselves on the fact that our staircases are high-quality in terms of both construction and aesthetic.
Collegeville, PA (PRWEB) October 01, 2013
It's never been a question whether chef and restaurant owner Todd English has impeccable taste. After all, his chain of restaurants, Olive, is one of the most prestigious names in the restaurant industry with locations spanning the country's most prominent metropolitan areas. It seems as though his taste spans to the field of interior design, as well: the NYC location of Todd English's Olives currently features a beautiful spiral staircase by renowned spiral staircase manufacturer Salter Spiral Stairs.
According to the restaurant's NYMag profile, "Chef-owner Todd English has a genius for artful, HungryMan dishes." Its reader rating of 8/10 stars shows that the restaurant can walk that walk. Highlighting English's personal take on Mediterranean cuisine, the menu is warm and inviting, and now, the restaurant has an atmosphere to match. The restaurant's recent redesign was highly anticipated and most definitely didn't disappoint – it continues to be a hotspot for NYC's younger foodie crowd.
"We pride ourselves on the fact that our staircases are high-quality in terms of both construction and aesthetic," says Salter Spiral designer Kim Toth. "When we saw the restaurant's design – dark hardwood floors, ambient lighting, something hip and modern but still a little rustic – we knew our classic steel spiral staircase with wood accessories would be the perfect accent to pull it all together."
If you're in the NYC area, you can visit Olives New York at 201 Park Avenue South. The menu is ever-changing and the ingredients are always fresh and in-season; it's a take on Mediterranean cuisine you won't find elsewhere.
Salter Spiral specializes in manufacturing elegant yet space-saving and high-quality spiral staircases for homes and businesses. The companies supply both stock stair kits and custom-made models designed to fit the customer's order. Based out of Collegeville, PA and Peekskill, NY, the companies proudly serve all of North America, including some islands, and even occasionally engage in international transactions.
To learn more about Salter Spiral Stair contact Sam Saxton at Sam(at)salterspiralstair(dot)com or call toll free at 800.368.8280.