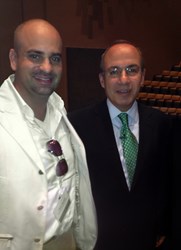 Playa del Carmen, Riviera Maya, Quintana Roo, Mexico (PRWEB) October 01, 2013
Both men have a personal interest in the progression of Mexico. President Calderon's 6 year term (2006-2012) was defined with the worst financial crisis since the Great Depression, but during all that Mexico actually made great strides reducing its fiscal deficit, graduating more engineers than Germany annually, and reducing tariffs to historic lows. Now Mexico's Economy, referred to by Economists as the "Tequila Tiger" has taken off. Chris has recently launched a company in Mexico's Hurricane Zone, with the aim of being the first line of defense against climate change.
Recently two hurricanes hit Mexico's Gulf coast and Pacific Coast simultaneously. One of Chris' start-up companies in the region, Hurricane Solution, has come to Mexico to provide the most advanced system of hurricane protection on the planet, to these regions that are so affected. President Calderon was interested in how it could help those in need and the two met recently at Harvard Business School.
Both men are alums of Harvard, Chris from Harvard Business School and President Calderon from the Kennedy School of Government where he now teaches. Hurricane Solution has instituted a program of education and protection, meeting with Local and State offices of Civil Protection all over Mexico to provide insight into how best deal with the next storm.
"Before and during a storm is a crisis situation" explains Chris. "The real work needs to happen well ahead, where are the local refuges, are they adequately protected, can the people who are protecting them put the system up in a timely fashion? Those are the questions that determine of people live or die."
President Calderon agreed. Natural disasters are never pleasant, but with the right preparation they can be mitigated.