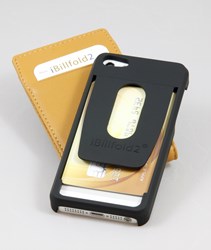 Santa Barbara California (PRWEB) October 15, 2013
When Fluent Ink's innovators first joined the iPhone case arena, they had a lot to learn. Fluent Ink, the energy behind the iBillfold2 line of Credit Card Cases, and now TheBrushUP, wanted quality products. When the first run of iPhone 4 cases arrived, they looked great. After a few days of testing, the manufacturer was sent this video showing the cutting up of the cases and recycling the material. The manufacturer got the message loud and clear. "We Will Cut You Up" and cut you off if product is not up to our high standards.
When the next run of iBillfold2 cases came in and went through testing, "WOW," they were incredible. Available now are cases for the iPhone 4 through the 5S. All of the iBillfold2 cases attach or mate with their line of fine leather billfolds or wallets that are sized and designed to perfectly facilitate anyone's needs for personal management of wallet and phone accessories. Both products handle cards and cash independently or combined.
Fluent Ink is a Santa Barbara product development company currently producing the iBillfold2 line of iPhone cases and mating wallets. Fluent Ink is also developing a series of cleaning accessories under the name of TheBrushUp.
Fluent Ink
Santa Barbara CA.
info(at)ibillfold2(dot)com