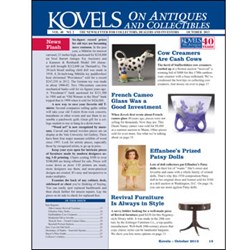 Cleveland, OH (PRWEB) October 02, 2013
More than 30 earthenware creamers shaped like cows sold at a recent Massachusetts auction. See a Staffordshire sponge-painted cow creamer with calf that went for $1,440, and others in "Kovels on Antiques and Collectibles" October issue, available now in print and online. Effanbee Patsy and Patsy-related dolls are loveable, ageless and on the "want" lists of lots of doll collectors. Kovels reports on more than two dozen sold at a Maryland auction, with pictures and prices of Patsy Mae, Patysette, Patsy Jr., Patsykins and Patricia. Well-built 20th-century furniture that copies classic styles can be a good buy and a Cleveland auction sold more than 100 vintage tables, chairs, sofas, cabinets and chests. Kovels' newsletter pictures a Georgian-style dining table made by Kittinger that sold for $3,360, along with other examples of reasonably-priced reproductions. And "Kovels on Antiques and Collectibles" newsletter continues to observe its 40th year of publication with a Then & Now column featuring French cameo glass. More than 85 pieces recently sold at a Maine auction, some for prices today that much higher than 40 years ago.
Baseball fans and collectors can celebrate World Series season by taking a look at the vintage baseball player portrait buttons in the October issue. Also pictured with prices are examples of modernist silver jewelry sold at auction in California. New Uses for Old Stuff shows a new spin on decorating—a bicycle wheel collage. The popular illustrated Collector's Gallery has answers to readers' questions about a Victrola, a Big Bang toy cannon, a Staffordshire spill vase and an electronic toy organ. October's Dictionary of Marks lists marks on souvenir spoons. The Buyer's Price Guide has current prices of dozens of antiques and collectibles and also looks back to its counterpart from October 1974.
Kovels on Antiques and Collectibles is available as a print subscription or as a digital version that is part of the Kovels.com Premium subscription.
Terry Kovel is America's foremost authority on antiques and collectibles. Terry is a well-known columnist and renowned author of over 100 books. With her daughter, Kim Kovel, she co-authors the best-selling annual "Kovels Antiques and Collectibles Price Guide." They will discuss antiques and collectibles topics with accredited media. Photographs are available. Contact pr(at)kovels(dot).
About Kovels.com
Kovels.com, created by Terry Kovel and Kim Kovel, provides collectors and researchers with up-to-date and accurate information on antiques and collectibles. Kovels Antiques was founded in 1953 by Terry Kovel and her late husband, Ralph. Since then, Kovels Antiques has continually published some of America's most popular books and articles about antiques, including the best-selling "Kovels Antiques and Collectibles Price Guide," now in its 46th edition. The Kovels website, online since 1998, and free weekly email, "Kovels Komments," give readers a bird's-eye view of the market through up-to-date news, auction reports, free online Price Guide, a Marks Dictionary, readers' questions with Kovels' answers and much more.
Contact Information:
Liz Lillis
216.752.2252
Pr(at)kovels(dot)com