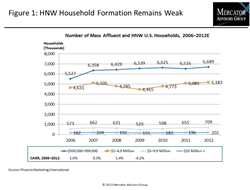 "The number of high-net-worth households has been stagnant for more than a decade, with declines occurring in some high-net-worth segments in recent years."
Boston, MA (PRWEB) October 02, 2013
Credit card issuers' continued interest in pursuing affluent consumers with excellent credit histories has expanded the variety of perks that come with premium card ownership.
Mercator Advisory Group's newest report, Premium Credit Cards: Products Converge in a Consolidating market, updates key statistics on affluent and high-net-worth consumers. It analyzes statistics that are fundamental to card product development in the U.S. market such as market growth, product ownership, and monthly and yearly card spending by cardholder segment. The report also reviews recent developments in the major card networks' product platforms and provides an update on new features and benefits of leading issuers' superpremium offerings.
"The number of high-net-worth households has been stagnant for more than a decade, with declines occurring in some high-net-worth segments in recent years," comments Michael Misasi, senior analyst at Mercator Advisory Group and author of the report. "Consequently, we are starting to see signs of product consolidation among some issuers' premium offerings. The intensity of competition over the relatively few qualifying consumers is perhaps best served by a marketing strategy that is concentrated on a single card product."
Highlights of the report include:
Estimations, trends, and penetration rates in premium credit card spending
Tactics that leading issuers have employed to differentiate proprietary premium card brands
An overview of premium product platforms offered at the network level
Comparison grids of the features/benefits of the most popular premium card offerings.
Companies mentioned in this report include: American Express, Citibank, JPMorgan Chase, MasterCard, and Visa.
Members of Mercator Advisory Group's Credit Advisory Service have access to these reports as well as the upcoming research for the year ahead, presentations, analyst access, and other membership benefits.
For more information and media inquiries, please call Mercator Advisory Group's main line: (781) 419-1700, send e-mail to info(at)mercatoradvisorygroup(dot)com.
For free industry news, opinions, research, company information and more visit us at http://www.PaymentsJournal.com.
Follow us on Twitter @ http://twitter.com/MercatorAdvisor.
About Mercator Advisory Group
Mercator Advisory Group is the leading, independent research and advisory services firm exclusively focused on the payments and banking industries. We deliver pragmatic and timely research and advice designed to help our clients uncover the most lucrative opportunities to maximize revenue growth and contain costs. Our clients range from the world's largest payment issuers, acquirers, processors, merchants and associations to leading technology providers and investors. Mercator Advisory Group is also the publisher of the online payments and banking news and information portal PaymentsJournal.com.