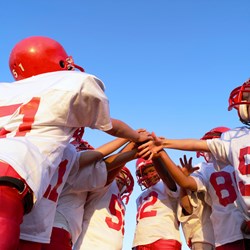 Hersey, MI (PRWEB) October 01, 2013
Even though April is officially Child Abuse Prevention Awareness Month, families, schools and communities are taking action every day of the year to ensure that children are safe. To help accomplish this, Eagle Village has partnered with the athletic departments at Chippewa Hills, Big Rapids and Ferris State University to encourage education, awareness and action when it comes to keeping children safe. They want to change tomorrow together by helping turn Victims to Victors.
The Chippewa Hills football game will be on October 4, 7:00pm in Remus and Big Rapids' game will be October 11 at 7:00pm in Big Rapids. The schools and Eagle Village encourage their fans, students and staff to wear blue throughout the day and at the games to recognize Child Abuse Prevention. Information will be provided on how to recognize the signs of abuse, what positive actions can be taken to help a child or family and encouragement to stay involved in your own children's lives. Custom Victims to Victors Blue Out apparel will be available at each game. Profits from these sales will go to Eagle Village programs.
Chi Ethridge, Middle School Principal and Athletic Director for Chippewa Hills shared, "The staff, parents and students of Chippewa Hills Schools in collaboration with the sports boosters and rocket football are committed to keeping every child safe and providing them with a quality education. Allowing Eagle Village to host a Blue Out Event during our Future Warriors Night and be an active participant with our varsity football game helps reinforce to our Warrior community how important it is to keep kids safe and what options are out there for help when it is needed."
The Eagle Village Game at Ferris State University will be on November 2 at Noon at Top Taggart Field. Information about Eagle Village and the services they offer families in Michigan will be available throughout the game and a commercial for Eagle Village will be shown on their newly installed jumbotron.
"At Ferris State, we know we have an obligation to give back to the community that provides us with so much. Our student athletes are exceptional students, role models, gifted athletes, and tremendous ambassadors for our institution. We try to put them into the community providing service and engagement as often as we can. It's an honor to partner with Eagle Village.", said Jon Coles, Ferris State Athletic Director.
Each of the three events will be unique in its own way with activities, videos, information and opportunities to get involved but the main message will remain constant – We must keep the kids in our communities safe and stand up together against abuse.
Please make this a county-wide partnership to turn Victims to Victors and Change Tomorrow Together. Attend one or all of these exciting games and be part of the change.
Eagle Village is a non-profit family treatment center providing Intervention Services and Camps, Residential Treatment, Foster Care and Adoption services for all counties in Michigan. If you know of a family in crisis that may benefit from these programs contact Eagle Village at 231-832-2234 http://www.eaglevillage.org, Facebook or Twitter.