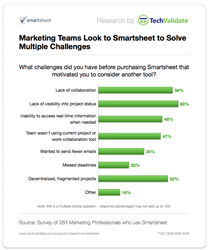 Marketers told us Smartsheet solves the biggest challenges marketers routinely struggle with – having better visibility into projects and improving collaboration.
Bellevue, WA (PRWEB) October 01, 2013
Smartsheet, the popular spreadsheet-inspired collaboration tool used by millions of people worldwide, is endeared by marketers according to a recent TechValidate survey. Of the marketing professionals surveyed who use Smartsheet to organize and collaborate on various programs, 91 percent say they'd refer the tool to a friend or colleague.
"Marketers told us Smartsheet solves the biggest challenges they routinely struggle with – having better visibility into projects and improving collaboration," said Mark Mader, president and CEO of Smartsheet. "With its spreadsheet appeal, file sharing, automated reminders, structured collaboration, and anywhere/anytime access, it's emerged as the 'go-to' tool they rely on – whether they're managing an event like the NCAA Final Four, coordinating advertising campaigns, or opening a new store."
Managing Marketing Projects in Smartsheet
Companies such as Behr Paints, Telluride.com, Colliers International, Port of San Diego, Magnolia Bakery, U.S. Holocaust Memorial Museum, Habitat for Humanity and thousands of other marketing teams and agencies rely on Smartsheet to run daily operational activities, streamline processes, improve productivity and gain greater visibility into work projects.
Populous, a global sports architecture and event management firm, uses Smartsheet to coordinate a web of vendors and contractors, schedules and deliverables for large-scale events such as the NFL Super Bowl, NCAA Final Four and NHL Winter Classic. "Smartsheet has definitely improved our productivity, impressed our clients and vendors, and made project management for major sporting events much easier," said Marc Klein, senior associate at Populous.
Cincinnati's largest PR agency, The Eisen Agency, uses Smartsheet as a collaborative workspace for both agency employees and clients. Agency members attach and share files, such as advertising comps and press releases, to clients' sheets for review. "Having all of our efforts documented in Smartsheet not only keeps my team and their projects on target, but also has greatly improved my client conversations," explained Rodger Roeser, president of The Eisen Agency.
Magnolia Bakery, which is credited with launching the worldwide cupcake craze, was first introduced to Smartsheet by its Web design firm, Blue Fountain Media. Now Smartsheet is the driving force behind the bakery's franchise expansion plan and internal operations. "The brilliance of Smartsheet is that it was easy for our team to jump right in, and it's quickly transformed the way we work together," said Amy Tucker, project manager at Magnolia Bakery.
Flexibility to Coordinate All Kinds of Work
With 100-plus pre-built templates and seamless integration with tools marketers already use (e.g. Dropbox, Box, Salesforce), Smartsheet is used to manage marketing initiatives such as:

Event logistics and venue management
Campaign tracking
Advertising project schedules
Editorial calendars and content review
Client project management
Invoice tracking and allocation
Strategic planning
SEO tracking
Creative briefs and asset management
Fundraisers and grant management
Editorial coverage and PR outreach activities
Rollup dashboard across teams
In addition to marketing programs, teams use Smartsheet to organize, plan and execute a broad spectrum of projects and ongoing processes, including product launches, business operations, sales pipelines, strategic planning and HR initiatives. For more information, visit http://www.smartsheet.com/customers.
About Smartsheet:
Smartsheet, a leading Software as a Service (SaaS) company, offers businesses an intuitive online collaboration tool. The ease of use of the familiar spreadsheet-like interface, coupled with file sharing, work automation and Gantt chart features, have made it a popular and highly functional collaboration and project management tool for nearly 2 million users in more than 150 countries. Visit http://www.smartsheet.com for more details.
Source: TechValidate. TVID: 965-A3D-2F9