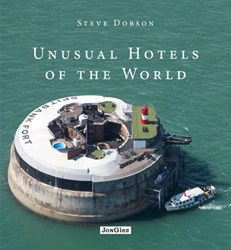 Instead of detailing the usual restaurants, hotels and tourist traps of leading international and domestic destinations, Jonglez Publishing works with local authors to create guidebooks that uniquely explore cities or locales.
(PRWEB) October 02, 2013
Instead of detailing the usual restaurants, hotels and tourist traps of leading international and domestic destinations, Jonglez Publishing works with local authors to create guidebooks that uniquely explore cities or locales. Intended for both curious travelers and residents who want to explore a new side to the cities they call home, each book is meticulously researched. The new titles include Unusual Hotels of the World, Secret Dublin, Secret Prague, and Forbidden Places Volume II.
Unusual Hotels of the World:
Avoid boredom and a routine holiday by exploring 120 extraordinary hotels across 40 countries in this book penned by Steve Dobson. The author knows a thing or two about unusual locations as he actually lives at the top of a converted mill in Surrey, U.K. Take diving gear along to reach an underwater hotel, stay in a disused US Air Force radar tower in the heart of the equatorial rainforest, sleep in the cabin of a dockside crane that you can rotate, try chalets hidden in the forest, a giant shoe, a coffin, lighthouse, tree, plane, train, chapel, prison, igloo, or even a red cube lost in the countryside through visiting the unusual hotels outlined in this title.
Secret Dublin - An Unusual Guide:
Discover the inner sanctum of Freemason's Hall, see Napoleon's toothbrush, marvel at a hoax plaque hidden in plain sight on O'Connell Bridge, try George IV's footprints for size, explore a 'museum' flat preserved exactly as it was almost 100 years ago or post personal thoughts in a mystery letterbox in this new guidebook by Pól Ó Conghaile, voted Irish Travel Journalist of the Year multiple times. Dublin offers endless opportunities for getting off the tourist grid and for peering into the city's fascinating past and present.
Secret Prague - An Unusual Guide:
Explore a totally overlooked Art Nouveau masterpiece, a forgotten Cubist lamp-post, secrets of the castle alchemists, the message in the hidden palindrome on Charles Bridge, the largest wind tunnel in the Czech Republic, a fragment of the Great Pyramid of Cheops in a pet cemetery, or a clock that runs backwards in this new guidebook. Martin Stejskal, historian, philosopher, artist and internationally-recognized specialist on the city where he has spent his life, opens the doors to one of the most secret and captivating capitals in the world and its myriad of little-known marvels.
Forbidden Places Volume II:
For 10 years, Sylvain Margaine has been travelling the world in search of these forbidden, all but forgotten, places. Through this book, readers can look around the former headquarters of the Bulgarian Communist Party, lost in the mountains; London's legendary Battersea Power Station; a deserted amusement park in Bali; Antwerp's extraordinary Stock Exchange, devoid of any activity; Russian helicopters abandoned in Bruges; a phantom workers' village in Italy; a dilapidated hospital in New York City; and unheeded castles; derelict prisons and asylums.
These new titles are an indispensable resource for those who thought they already knew everything about a city, hotel or forbidden place and want to begin exploring. These books allow readers to skip the crowds and clichés and become truly immersed travelers.
About Jonglez Publishing
http://www.jonglezpublishing.com
After traveling the world, founder Thomas Jonglez set up his publishing company specializing in travel guides featuring secret and unusual places. Preferring not to compete with existing guidebooks, he decided to adopt an original style, thus also creating a new type of guidebook: by definition, his are written by local residents and only present places not found in other guidebooks. The target audience is thus the residents themselves, who can discover or rediscover their city, as well as curious travelers who may already know the city or region. The books have earned several awards, including Independent Publisher's Award Gold Medal for Secret Venice, Prague Book Fair Gold Medal for Secret London, Independent Publisher's Award Bronze Medal for Secret Madrid and Food & Travel's Magazine's Tourism Book of the Year for Unusual Hotels Europe.
Jonglez Publishing prints books in seven languages (English, French, Spanish, Italian, Portuguese, German and Dutch). Other available titles include: Secret Amsterdam – Secret Barcelona – Secret Bars and restaurants in Paris - Secret Brussels – Secret Florence - Secret French Riviera – Secret Geneva - Secret Lisbon - Secret London an unusual guide - Secret London unusual Bars et restaurants – Secret Madrid - Secret Milan – Secret Montreal an unusual guide - Secret New York an unusual guide – Secret Paris - Secret Provence - Secret Rome - Secret Tuscany – Secret Venice - Forbidden Places Exploring our abandoned heritage 1 - Unusual Hotels - Unusual Hotels Europe – Unusual Hotels France - Unusual Hotels UK and Ireland – Private Islands for rent – Unusual nights in Paris.