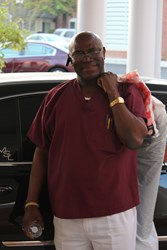 To be able to care for all the people who I came into contact with, there had to be a special bond, a love ... Sandy Osei-Acheampong
Rockville, Maryland (PRWEB) October 01, 2013
It's not every day that your employer sends a limo to escort you to and from work, but for Mr. Sandy Osei-Acheampong, an employee for almost 32 years at The Village at Rockville—A National Lutheran Community (TVAR) in Rockville, Md., that day was Friday, Sept. 20.
Sandy celebrated his retirement in style, complete with limo service, a farewell party and celebratory dinner at Clyde's, arranged by TVAR to honor and recognize his achievements and contributions during his 32-year tenure. As a testament to Sandy's contributions, more than 100 people, comprised of staff, family and board members alike, attended the gathering to express their gratitude and wish him well.
Sandy began working at TVAR in 1982 when it was known as The National Lutheran Home and quickly rose through the ranks. He started as a Floor Maintenance Aide in environmental services and moved into maintenance in 1984; after serving for nine years he was given the opportunity to pursue an education as a licensed practical nurse (LPN). Sandy provided direct care for many of TVAR's seniors and always treated everyone he cared for as though they were his own family member.
"Sandy is a role model and an example to all who desire to learn and grow within our organization," Executive Director Jana Broughton said. "Because of his determination and drive, he not only furthered his career, but furthered the lives of others. Sandy has left a legacy of caring that will be remembered by all whose hearts and lives he touched."
For Sandy, it has been a memorable 32 years. He and his wife plan to spend their retirement years in Ghana, where he was born. The couple will relocate there in early October, but have promised to come back for visits.
"I am thankful I was given the opportunity to work at TVAR. I have a special respect for my residents and their families… to be able to care for all the people who I came into contact with, there had to be a special bond, a love," Sandy Osei-Acheampong said. "I was the first employee to receive tuition reimbursement and I hope others are able to take advantage of these benefits too."
About The Village at Rockville (TVAR)
The Village at Rockville—A National Lutheran Community in Rockville, Md., is a CCRC (continuing care retirement community) that offers independent living, rehabilitation, respite, assisted living, extended nursing care, hospice and coming soon, memory support. For more information, visit http://www.thevillageatrockville.org.
About National Lutheran Communities & Services (NLCS)
Based in Rockville, Md., NLCS is a not-for-profit, faith-based ministry of the Evangelical Lutheran Church in America's (ELCA) Delaware-Maryland, Metropolitan Washington, D.C. and Virginia Synods, serving people of all beliefs. NLCS provides seniors with a variety of lifestyle, residential and health care options through retirement communities in Maryland and Virginia.
Other communities sponsored by NLCS include The Legacy at North Augusta in Staunton, VA., an independent living rental community offering assisted living services; The Village at Crystal Spring in Annapolis, MD., a new continuing care retirement community – subject to Maryland Department of Aging approval – which will serve as the centerpiece of a multi-generational residential and mixed-use project; The Village at Orchard Ridge in Winchester, VA., a new continuing care retirement community that opened in Feb. 2013. For more information about any of our communities, visit http://www.nationallutheran.org.