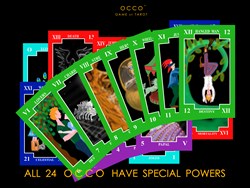 (PRWEB) October 02, 2013
From the 15th Century onwards, Tarot, Tarok and Tarocco were massively popular card games across Europe…Three hundred years later, the Tarot began to be used for "Divination", Soothsaying, Fortunetelling and Prophesy. This is the prevailing image of Tarot in today's mythology.
Tarot Cards evoke a strong reaction from many people. Considered "Occultist" by some religious groups, Tarot is also vilified in many horror films, with scary cards foretelling "DEATH" or "DEVILish intent". Conversely, "O C C O , GAME of TAROT" shows how much fun Tarot can be. This strategic game returns the Tarot to its cultural roots, daring to challenge the concept that Tarot is scary or occult, redefining Tarot as a raucous, zany multi-player game. Unlike medieval Tarot games, "O C C O" is NOT based on "Trumping" or "Trick Taking". "O C C O" play is continuous and multi-directional, featuring "Turn Taking", "Power" cards, penalties and strategic hand building... (with a bit magic dust thrown in.)
British American composer and game designer, Scott Hill relates: "I never intended to upset anybody! It seems the "Game of Tarot" concept is controversial. Some people are actually afraid of the cards. Others insist Tarot is exclusively mystical. Happily, most people immediately recognise the imagery in O C C O is ironic and amusing! The real fun begins when you play "O C C O" with friends."
Gameplay is surprising, with endless "cosmic" variations occurring. Arguments, abuse and laughter accompany every play, and (penalty card) attacks cause conflict in a dour struggle for victory. The 80 card, "O C C O , Game of Tarot" deck is uniquely colour coded, relating certain "Minor Arcana" (Cups, Coins, Swords, Wands) to the Major Arcana, "OCCO" (Tarot) cards. This unique concept means that hand permutations are astronomical. Alliances are formed then broken, strategy is paramount. After all, what other game allows you to summon "STRENGTH", call for "JUSTICE", play the "FOOL" and win with a "CELESTIAL BODY"?
You can take part in making "O C C O" happen: The LIMITED FIRST EDITION of "O C C O, Game of Tarot" is taking pledges for only 40 DAYS. Making a unique Christmas gift, "O C C O" is only on kickstarter until 11th of November: http://www.kickstarter.com/projects/occo/o-c-c-o-game-of-tarot-strategic-card-game .
"O C C O" is the latest publication from London-based "global fusion" record label ASTRANOVA / AMBIENT WORLDS
"O C C O , Game of Tarot" - Original Art: Rebecca Berger - Game Design: Scott Hill ℗ ASTRANOVA 2013