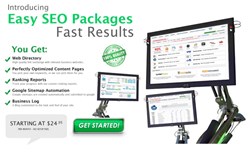 (PRWEB) October 01, 2013
Blackwood Productions, veterans of Search Engine Optimization (SEO) and internet marketing, begin studying Google's updated algorithm, Hummingbird. This update will gather search results by the user's intended purpose instead of the individual words in the query.
About Hummingbird
Unbeknownst to anyone, Hummingbird came out a few months before the actual announcement. Hummingbird will enhance SEO efforts by using the intended meaning of a search phrase to find the results wanted. This update will stop instances of search results unrelated to the query from appearing.
Google searches depended on the interpretation of each word in the search phrase and results include unrelated websites. By using the search query's intended meaning, the results should all relate to the user's needs.
How Hummingbird affects internet marketing companies
Ethical web marketers will see little change to their existing structure. The demand for a consistently high ranking on the search engines remains unchanged and the SEO company will still provide the internet's version of billboards and print ads.
These tools, driven by keyword placement in a search query along with strategic marketing management, provide a steady stream of viewers to the website with a percentage of those viewers purchasing the products or services offered.
Internet market analysis
Marketing tools include software to analyze search engine results and trends in the category desired. The software provides algorithmic analysis which present information about consumer habits and the reason popular websites remain popular. This gathering of information compares to target groups advertising agencies use to gain first-hand information from consumers.
SEO driven content
Emerging markets keep SEO companies on the watch for better content to post on client's websites and affiliate sites to stay on top of the search results. The internet marketing business continues to grow and competition in marketing niches requires forward thinking webmasters to survive.
Industry experts help SEO companies
The stream of fresh content and maintaining interest in a website means SEO companies, like Blackwood Productions, search for experts in specific industries who help move the website forward by contributing up-to-date information to industry websites.
Hummingbird works to find relevant search results to web surfers and the algorithm gives an accurate representation of searchers who find the information they search for compared to those who click into a site, then leave when the site does not meet their needs.
Advantages of using an internet marketing company
Veteran internet marketing companies know how to market their client's website by staying flexible to consumer needs and marketing trends. Keeping the website's momentum requires multi-tasking and knowing the changing internet marketing regulations.
The rules of internet marketing evolve with age, and good internet marketing companies maintain the flexibility to change as quickly as the markets. Professionals, like Blackwood Productions, have been in the market for over a decade. Working with internet marketing professionals increases the chances for success in a highly competitive and changing marketplace.
Ethical marketing and sales
The Hummingbird update will change little for ethical SEO marketing companies as the content of websites will remain informative, engaging and fresh. The change will come with faster search results that meet the needs of the user.
Hummingbird should keep spam to a minimum while increasing visits to websites run by ethical SEO marketing management. Time will tell if Hummingbird can live-up to expectations.