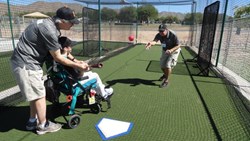 Scottsdale, Ariz. –
(PRWEB) October 22, 2013 -- The Miracle League of Arizona and the Phoenix Thunderbirds will team up to unveil the first-ever batting cages for special-needs athletes at Miracle League Stadium on Saturday, October 26, at 10 a.m. The cages include soft toss, slow-pitch and advanced machines, giving each athlete the chance to play at their own pace.
The Miracle League is a charitable organization that grants over 200 children and young adults with special needs the opportunity to play a game of baseball as a team member in an organized league.
"Every child deserves the chance to play baseball," said Dan Haren, executive director of the Miracle League. "We want to thank the Thunderbirds for providing the funding for the special needs community and giving our athletes an experience that, prior to this, they could only dream about."
"We've had the pleasure of donating millions of dollars to a variety of organizations across Arizona; however this donation to the Miracle League is one of the most exciting and anticipated," said Thunderbirds Big Chief Tom Altieri. "We are really proud of it and look forward to watching many Miracle League members use the new batting cages."
The Miracle League of Arizona stadium at 11130 E. Cholla St., Scottsdale, is open to all special needs children in Arizona who want to play baseball. No fee is required to participate, only players and their families looking for fun and friendship.
About The Miracle League of Arizona:
The Miracle League of Arizona is a nonprofit organization in Scottsdale dedicated to providing a safe, successful and enjoyable baseball experience for children, teens, and adults with disabilities or special health care needs. Its facility is the only full-service stadium with a custom-designed rubberized turf, to allow easy maneuverability for wheelchairs and other devices; it has a long list of other additions to fully accommodate all the needs of every player and family for a full day of fun at the ballpark. Follow us on Twitter on twitter.com/MiracleLeagueAZ or Follow us on Facebook http://www.facebook.com/MiracleLeagueAZ.
If you would like to donate to the Miracle league, sponsor a child or volunteer please contact Casie Switalski director of operations at 480-686-8137 or email: Cswitalski(at)mlaz(dot)org.
About The Phoenix Thunderbirds:
The Phoenix Thunderbirds have been an integral part of the Valley of the Sun since 1937. Better known as the host organization for the Waste Management Phoenix Open, the Thunderbirds are equally proud of their contributions to charity. In 1986, Thunderbirds Charities, a 501(c) (3) nonprofit corporation was established for the purpose of distributing money to charitable causes. Funds are raised through the Waste Management Phoenix Open and direct gifts to Thunderbirds Charities. The tremendous support of the community allows the Thunderbirds to achieve their charitable goals. Its charitable giving is directed toward organizations based, or with a significant presence, in Arizona. Thunderbirds have raised more than $80 million for charities, with more than $50 million generated since 2004.