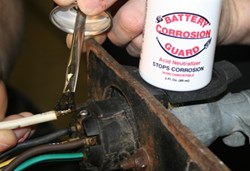 Fall vehicle maintenance can save you a ton of winter headaches.
Spokane, WA (PRWEB) October 01, 2013
This time of year it is especially prudent to give your vehicles a little more than the usual attention, and more so if you live where the winters are harsh. Winter is the least fun time of the year to be stranded somewhere with a vehicle that has quit or wouldn't start. Here are some tips from Battery Corrosion Guard.com to help you avoid such an unpleasant circumstance.
Start where you start, the battery, battery cables, and under the hood wiring in general. Get under the hood and have a good look around. The only accurate way to know if the battery is good is to have it tested on professional equipment. If the battery is getting older you might want to take it somewhere to have it tested.
Do the terminals on the battery look clean and secure? How do the cables look? They should be free of battery corrosion and secure to the clamps. If you are a do-it-yourself er, be sure to wear rubber gloves and eye protection.
Check your owner's manual before loosening the cables. Some newer vehicles may be damaged or lose the vehicle codes. If it is OK for your vehicle, loosen the cables and clean off any corrosion by scraping them and or brushing them with a brass or steal bristle brush. Sprinkle on a little baking soda then pour on some vinegar to really clean them and rinse with some water.
Be careful to avoid getting the mixture inside the battery. To keep the terminals corrosion free and conducting well use Battery Corrosion Guard on the post, cables, even metal parts of the battery box. Reattach and tighten the cables. While you have the hood open make a good examination of all the wiring. Look for any loose wires or bulges in the insulation of the wire. If you find anything like that correct it or take to your mechanic and bring any deficiencies to his attention.
Inspect all the lights and bulbs; replace any burned out bulbs. Bulbs can also be coated with Battery Corrosion guard to keep them from corroding.
Scratched headlight lenses can be restored with a kit from your local auto parts supplier.
Change the oil and all the filters. If you don't do the oil change yourself make sure that whoever does it uses the correct oil and grade that is recommended by the manufacture. This is very import in some newer cars and trucks. Don't forget to check fluid level in the transmission.
The cooling system should be flushed and refilled as recommended by the manufacture. Check the level and concentration of the coolant periodically throughout the winter, a 50/50 mixture of antifreeze and water is usually recommended. The condition of all belts and hoses should also be checked. Check that the heater and defroster are working. You probably haven't used them since last winter.
Have a look at your tires. Check for uneven wear and cupping. Uneven wear could be signs of alignment problems. Check the side walls for cuts. Check the tire pressure when the tires are cool. Check the spare and the jack.
Have your breaks checked periodically to avoid expensive repairs.
It is a good idea to have an emergency kit with you: extra gloves, boots and blankets; flares; a small shovel and sand ; tire chains; a flashlight and extra batteries; and a cell phone and extra charger.
An hour or two now might save you a bunch of trouble later. Happy winter driving!
Battery Corrosion Guard
batterycorrosionguard.com
Company Phone: 1-509-496-2306
Company Fax: 1-509-276-9606
E mail us at: BatteryCorrosionGuard(at)gmail(dot)com.