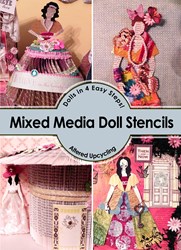 The stencils will help mixed media artists and crafters make beautiful dolls, all while making use of their fabric and paper scraps!
New York, New York (PRWEB) October 02, 2013
Altered Upcycling recently launched a new and innovative mixed media craft product at the world Maker Faire in New York. The product is a kit of craft stencils that allow artists, crafters and mixed media and altered art enthusiasts to make beautiful collage and mixed media paper dolls.
Paper dolls and mixed media art dolls have seen quite a revival in the craft industry and the Mixed Media Collage Doll Stencils by Altered Upcycling will make it very easy for young and old, crafters, artists and hobbyists to create beautiful works of art.
The kit comes with three stencils made from durable plastic. Each kit comes with 5 dress patterns, 10 hairstyles, 3 body postures and lots of hats and head gear as well as wings.
The stencil kit was launched at the World Maker Faire in New York on the 21st and 22nd of September 2013 and was well received. Crafters and artists from various generations loved the product and found it easy to use. From 6 year old girls to grandparents, the stencils were found by all to be a very interesting and creative product.
The kit was showcased along with a wide variety of projects that were all completed using the stencil kit. Since the product is supposed to encourage crafters to go green, these stencils can be used with paper and fabric scraps. In fact all the projects show cased at the faire had been made using repurposed and recycled materials. In keeping with the green theme of the product, each kit came with minimal packaging but access to an entire website that is full of tutorials and even videos with the promise of many more to come.
This kit is the first in a line planned by Altered Upcycling. These doll kits will make mixed media doll arts very easy for all artists and crafters and will also encourage a new generation of makers to craft green.
To learn more about the product and to order your own set of stencils you can visit the Altered Upcycling company website and their Mixed Media Doll Stencils product page.
About the Founder/Author: Mahe Zehra Husain (MZ) is a mathematician by training and an artist by nature. She has completed her Masters in Operations Research from The University of Texas at Austin, works at a software house and plays with her art supplies! She loves to see things in a different light and is an avid altered artist who is constantly looking for ways to upcycle all the trash around her in an attempt to make the world greener one small craft project at a time. Join her on her upcycling adventures at http://www.alteredupcycling.com!
About the Company: Altered Upcycling is a green crafting company that promotes upcycling and green crafting tips, tricks and tutorials. The company has developed several books (all available on Amazon under Mahe Zehra Husain) that teach the reader how to incorporate upcycling and recycling in their everyday lives and especially in their arts and crafts projects. Creating upcycled items with the use of discarded materials is not difficult at all. Altered Upcycling provides lots and lots of inspiration on their website, their blog, and their Facebook page, for free. The goal is to save the planet while crafting.