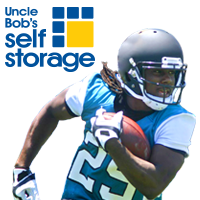 Jacksonville, FL (PRWEB) October 01, 2013
Jacksonville Jaguars fans will get a chance to meet the team's rookie wide receiver Denard Robinson. Robinson will meet with fans and sign autographs from 5:30-7:30 pm local time on Tuesday, October 8th at the Uncle Bob's self storage facility located at 1709 Blanding Blvd. in Middleburg, FL 32068.
"Denard was a star at Michigan and we know Jacksonville fans are excited that the Jaguars drafted him," said William Sambuca, Area Manager of Uncle Bob's Jacksonville storage facilities. "Jacksonville has a rich history of loving football, and we're as excited as the fans to have Denard visit with us."
Robinson holds the unique distinction of being the first player in NFL history to be listed as an "offensive weapon" on a team's depth chart. According to the Florida Times-Union, the league recently asked the team to designate Robinson to a traditional position. He was moved to wide receiver, which allows him to wear his preferred number 16.
Visitors can also enter to win prizes from WOKV News talk 690 AM and 104.5 FM. For further details please visit UncleBobs.com/Robinson.
About Denard Robinson
Denard Robinson was a four star football recruit out of Deerfield Beach Florida High School and played college football at the University of Michigan. While at Michigan, Denard set multiple records, including the NCAA record for total offense in a single season with 4272 total yards in 2010. He was drafted by the Jacksonville Jaguars in the 5th round in 2013
About Uncle Bob's Self Storage
Uncle Bob's Self Storage® is owned by Sovran Self Storage, Inc., (NYSE:SSS) a real estate investment trust (REIT) that acquires and manages self storage facilities. Uncle Bob's is one of the largest self storage companies in the United States with more than 450 storage locations spread across 25 states. Uncle Bob's currently has 7 self storage locations in the Jacksonville area