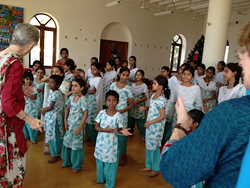 If our Love Peace Harmony Movement can bring about change in one of the most horrific poverty situations, imagine what it can do for everyone else in the world. -- Master Marilyn Smith
San Francisco, CA (PRWEB) October 01, 2013
New York Times bestselling author and founder of Soul Mind Body medicine, Master Zhi Gang Sha has raised $50,000 to help the Anganwadi School teachers of Mumbai, India during a recent Soul Healing Evening and Benefit in San Francisco, California last week. The monies raised during this event go directly to helping 300 Anganwadi teachers continue to spread the Love Peace Harmony Movement to children and families living in poverty in Mumbai, India this year and in the coming years. For more information about the Anganwadi Teachers and the extraordinary results that this movement has started, go to: https://www.facebook.com/notes/dr-and-master-sha/bringing-love-peace-harmony-to-india-a-message-of-hope-and-transformation/10151952057360620.
The proceeds were raised from ticket sales for Master Sha's Soul Healing Evening and Benefit which broadcast live in front of an audience in San Francisco and via webcast on September 13 to benefit the Anganwadi teachers and volunteers who work in the most dire and dangerous slums in Mumbai, India. The initial goal of $15,000 was achieved within hours of announcing the benefit event as ticket sales and donations poured in from the San Francisco area and around the world. By the end of that weekend, donations totaled close to $50,000 (or $3,000,00 Rupees) with more events planned for coming months. With the additional funds, Master Sha's Love Peace Harmony Movement can benefit an additional 270 teachers and almost 110,000 families in the most unfortunate and needy parts of India.
Three years ago, Master Sha's Worldwide Representatives, Master Patricia Smith and Master Marilyn, taught the "Love, Peace & Harmony" soul song and Master Sha's "Universal Forgiveness Practice" to two Anganwadi teachers in the Chitah Camp of Mumbai, India. Those women then taught their students and their families Master Sha's song and practices. Almost instantly, the teachers saw huge changes in the health, wellness, and the behavior of their students. News of these changes spread through the Anganwadi teaching community and now 30 other teachers want to include Master Sha's "Love Peace & Harmony" soul song and the Universal Forgiveness Practice in their classrooms and in turn teach more than 12,000 students and their families to include these practices in their homes. With the additional funds raised, nearly three quarters of a million lives can be touched by this beautiful, yet powerful soul song and practice.
"The teachers, families and children of Mumbai live in the most heartbreaking conditions of poverty filled with rampant domestic abuse, unsanitary conditions, constant illness, and hunger," says Master Patricia Smith. "When the Anganwadi teachers began singing the Love, Peace & Harmony song with their students, together they were able to change the frequency of their environment for the better. Then when the teachers began seeing changes in their students and their family lives, they knew that more teachers needed to use these techniques in their classrooms and the good news began to spread. This is why it is so important to raise money so that that all the teachers can institute this movement with their students."
The Anganwadi teachers are part of a national nutrition program started by the Indian government to help combat child hunger and malnutrition. These teachers also counsel families dealing with domestic abuse; help residents learn how eat better; educate families to prevent major illness caused by poor hygiene, contaminated water and food; plus ensure that children are immunized and cared for properly. Since Masters Patricia and Marilyn brought the Love Peace Harmony Movement and the Forgiveness Practice to the Anganwadi school teachers, they've witnessed domestic violence, especially against women and children, and illness decline in the camp. In addition, health and school performance have improved.
"It's a beautiful thing to hear 4 and 5 year olds singing about love and peace in their classrooms, and then actually seeing the direct relationship to how these practices have changed their environment," says Master Marilyn. "If our Love Peace Harmony Movement can bring about change in one of the most horrific poverty situations, imagine what it can do for everyone else in the world."
During this dynamic and uplifting Soul Healing Evening and Benefit, Master Shal offered powerful soul wisdom teachings and Divine Soul Healings to those in attendance or via webcast. Part of his life's mission is to empower people to heal themselves, to heal others and to help heal the world. During this event, Master Sha shared highly effective, yet simple self- healing practices to transform health, relationships, finances, and any aspect of life. Known for his spontaneity, joy and compassion, Master Sha was thrilled and most appreciative for all the donations raised for this most important benefit and Movement taking place in India now.
For more information about the Love Peace Harmony Movement or the Benefit for the Anganwadi School Teachers, go to: to http://www.DrSha.com or call Master Sha's Soul Healing Center in San Francisco: 415.971.7373.