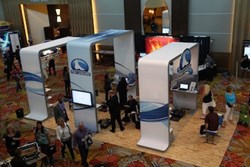 (PRWEB) October 01, 2013
Foot Levelers is pleased to announce it will be attending both the Ohio State Chiropractic Association (OSCA) and Illinois Chiropractic Society (ICS) events during the first week of October 2013. The OSCA Annual Convention takes place Friday, October 4 through Sunday, October 6 at the Hyatt at the Greater Columbus Convention Center in Columbus, Ohio. The ICS National Convention and Expo is taking place at the Marriott Chicago Naperville in Naperville, Illinois from Friday, October 4 through Sunday, October 6.
At the OSCA Annual Convention, Foot Levelers speaker Dr. Mitch Malley will be making a presentation entitled "The Pain and Agony of De-Feet – Here's a Sole-ution!" which will be focusing on the anatomy and biomechanics of the foot. He will be reviewing x-rays, examination, and extremity adjusting techniques.
Dr. Jeff Blanchard will be representing Foot Levelers at the ICS National Convention and Expo. Dr. Blanchard's lecture is titled "Biomechanics of the Golf Swing". During the lecture he will help identify the risks of injuries, focus on warm-ups and stretches, and review treatment protocols including myofascial release and spine management.
To learn more about each event, visit the OSCA web site (oscachiro.org) and the ICS web page (ilchiro.org).
Foot Levelers, Inc.
Foot Levelers, Inc., the world's exclusive provider of individually designed Stabilizing Orthotics and other therapeutic products, has been serving healthcare professionals for over 60 years. Foot Levelers supports every step patients take to enjoy fuller and happier lives at work, home, or play.
Visit FootLevelers.com, like us on Facebook, and follow us on Twitter (@FootLevelers) to learn more about Foot Levelers, Inc.